RB Antonio Andrews adjusts his goals with the Titans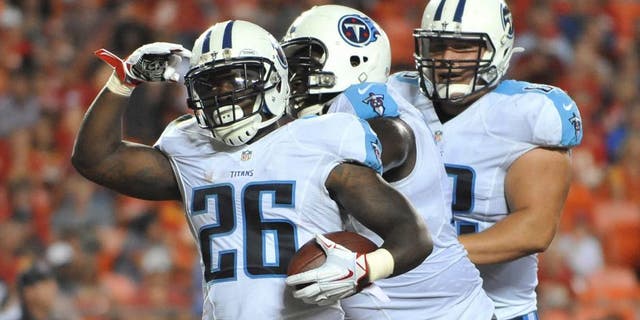 NEWYou can now listen to Fox News articles!
The days of Antonio Andrews simply hoping to make the Tennessee Titans 53-man roster are over.
Now, after a productive training camp, the second-year running back has his sights set on winning the starting job.
"Trying to make the 53-man is not my ultimate goal any more. Being a starter is now my goal,'' Andrews said, per the team's official website. "All that 53-man (talk), I am not nervous about it or anything like that. It is not in my mindset. God is going to take care of everything as long as I do what I am supposed to do.
"Last year my ultimate goal was to make the 53, and I guess I kind of sold myself short last year worrying about that."
As a rookie last season, Andrews was released at the end of training camp before being signed to the team's practice squad and promoted to the active roster in October. He appeared in four games with a carry, but did catch two passes for 11 yards.
With a year of experience to his credit, the former undrafted free agent from Western Kentucky has a solid preseason. Through three games, Andrews has to carries for 39 yards and two touchdowns on the ground. He's also caught two passes for 25 yards and a touchdown.
Titans head coach Ken Whisnehunt said he's been pleased with Andrews' performance in camp.
"As an undrafted free agent, you feel like you are always on the bubble,'' Ken Whisenhunt said. "I don't know if you ever feel like you are not off the bubble. I like Antonio, he has done a nice job. I hope he continues on that trend."
While nothing is guaranteed until the final cuts are announced, the 23-year-old Andrews is more focused on working towards his goal of eventually winning the starting job. With the injury to rookie David Cobb, Andrews and Dexter McCluster have been working as the primary backups behind Bishop Sankey.
"At the end of the day, anybody could be cut from the 53-man,'' Andrews said. "I just try to take advantage of all the reps I get. I am in the mix, competing for a starting spot, and I am real excited, confident in myself. I am doing everything I am supposed to do."
(h/t Tennessee Titans)