Rays sign Logan Morrison to 1-year deal, trade Enny Romero to Nationals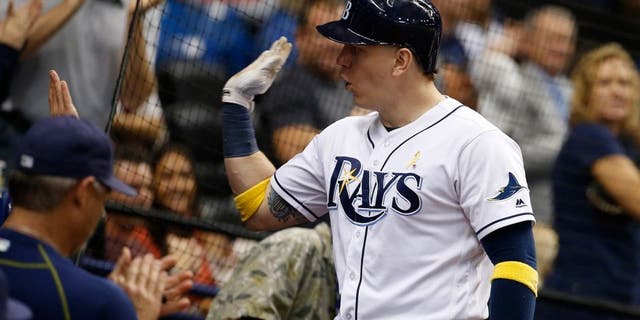 ST. PETERSBURG, Fla. -- The Tampa Bay Rays have agreed to a one-year, $2.5 million contract with free agent first baseman Logan Morrison. He has a chance to earn an additional $1.25 million in incentives. To make room on the 40-man roster, the Rays traded left-handed pitcher Enny Romero to the Washington Nationals for minor league right-handed pitcher Jeffrey Rosa.
Morrison, 29, hit .238/.319/.414 (84-for-353) in 2016, his first season with the Rays. He hit .275 with 14 home runs, 43 RBI and a .350 on-base percentage over his final 79 games (72 starts), from May 16 through the end of his season. He appeared in 107 games, but his season was cut short by two injuries: a right forearm strain put him on the disabled list for 16 games at the end of July, and a left wrist strain sidelined him for the final 20 games of the season.
Over seven major league seasons with the Miami Marlins (2010-13), Seattle Mariners (2014-15) and Rays (2016), Morrison is a career .245/.325/.416 (597-for-2,441) hitter with 84 homers and 297 RBI. He was acquired by the Rays in a six-player trade with the Mariners on November 5, 2015.
Romero, 26, went 2-0 with a 5.91 ERA (45.2-IP, 30-ER) over 52 games with the Rays in 2016, his first full season in the majors. Included was his first career win (April 26 vs. BAL) and first career save, a swinging strikeout of David Ortiz, his only batter faced, on August 25 against the Red Sox. Over parts of three seasons with the Rays, he went 2-2 with a 5.27 ERA (80.1-IP, 47-ER) in 76 appearances (1 start). His only career start remains his major league debut on September 22, 2013, a Rays 3-1 win over Baltimore to keep them in the lead for the American League Wild Card.
Rosa, 21, went 0-4 with a 4.91 ERA (40.1-IP, 22-ER) in 11 starts for the Gulf Coast League Nationals in 2016, his second professional season. He is 1-8 with a 3.83 ERA (96.1-IP, 41-ER) and 9.6 strikeouts per nine innings in 24 career starts.