Rays on right end of classic drama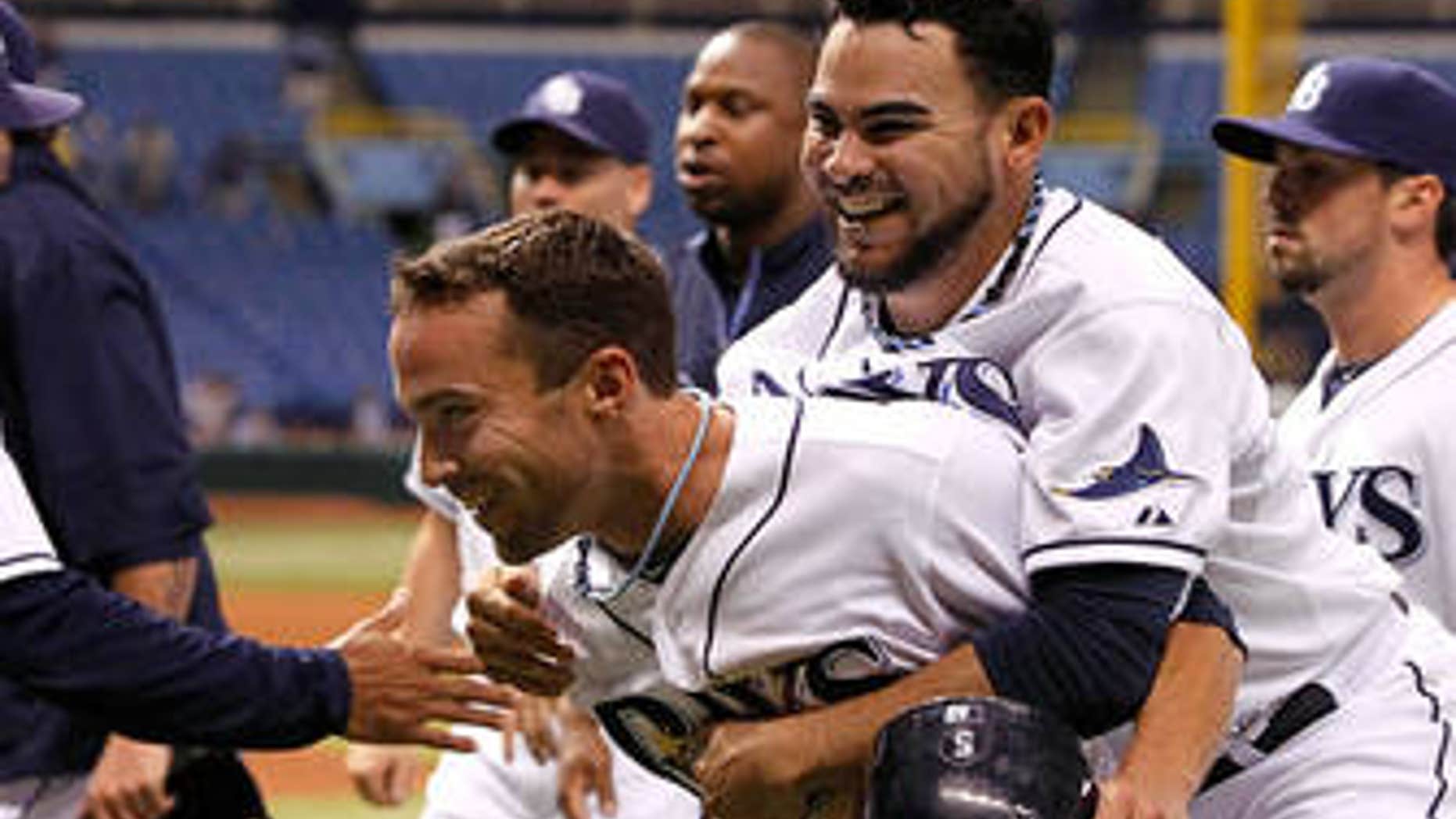 ST. PETERSBURG, FLA. – A single baseball game features so many twists, so many turns, so many ways to win and lose. And for contenders, in September, the twists and turns get even hairier, the margin between victory and defeat even smaller.
The Tampa Bay Rays and Texas Rangers played a pennant-race classic Wednesday night, a game that may have saved the Rays' season and devastated the Rangers' -- or not.
When it was over, after the Rays finally had prevailed, 4-3 in 12 innings, Tampa Bay manager Joe Maddon said with admiration, "All kinds of crazy little nuances . . . that's why the game is so beautiful."
Amen.
Both teams would make the playoffs as wild cards if the season ended today, but 11 games remain with the Rays' Matt Moore facing the Rangers' Yu Darvish in the series finale Thursday night. The Rays lead the Rangers by one game. The Indians are a half-game behind the Rangers, the Orioles one game back.
The standings, as far as the Rays and Rangers are concerned, easily could have been reversed Wednesday night.
Rays center fielder Desmond Jennings botched a fly ball in center field, leading to a two-run triple by Leonys Martin in the second inning. But Jennings hit the redemptive walk-off single to right in the 12th, scoring Sam Fuld from second.
Rays right fielder Wil Myers committed an even worse defensive blunder than Jennings, making a nonchalant retrieval of a single by Adrian Beltre in the 11th that allowed Elvis Andrus to score from first base -- and Myers uttered, "Thank God" on the bench after David DeJesus tied the score with a single in the bottom half.
With two strikes.
And two outs.
Off Rangers closer Joe Nathan, against whom DeJesus was 3 for 17.
DeJesus, 33, joined the Rays on Aug. 23 in a waiver trade. His hit scored Freddy Guzman, whom the Rays signed out of the Mexican League on Aug. 30, promoted on Wednesday and inserted as a pinch-runner in the 11th after Matt Joyce drew a walk with the Rays down to their final out and no one on base.
Maddon said of Guzman, "He showed up in the dugout yesterday, introduced himself all around." And then, upon entering the game Wednesday, took what Maddon described as a "big old lead . . . that's why he led the Mexican League in stolen bases, baby."
Never mind that the Rangers thought Guzman was out at second, and that an overhead replay at Tropicana Field appeared to support their contention. The stage was set for DeJesus, who had waited for this moment for only his entire 11-year career.
DeJesus made his debut as a September call-up for the Royals in 2003. It was the Royals' last winning season, and DeJesus has yet to play a full season for a winning club. "In Kansas City, Oakland, Chicago," he said, listing his previous clubs, "we weren't having games like this."
No, DeJesus said, he had only been on the other side, spoiling the "up-in-the-lead guys." The combined winning percentage of his previous teams was a mere .412, according to STATS LLC. Even in Washington, where he spent four days in August between his stints with the Cubs and Rays, the Nationals had a losing record when he left -- they got hot right after that.
Anyway, DeJesus took a strike on a 2-1 count, allowing Guzman to steal. Maddon said it was DeJesus' call to take, as it proved to be the right decision. DeJesus said he saw a cutter or slider out of Nathan's hand, determined he couldn't do anything with it and chose to take.
He had faced Nathan often when Nathan was with the Twins, rarely enjoying success. But he showed no hint of panic, not even down to his final strike. Nathan threw him a slider, and DeJesus slapped a bouncer up the middle.
"It hit the mound and hopped up, and I was like, 'Just get by him,' " DeJesus said.
The ball did, barely eluding Nathan's glove and meandering into center, perfectly placed between the Rangers' middle infielders. Nathan sprawled on his back in disappointment, in disbelief, as Guzman raced around third to score.
"I didn't throw a bad pitch," Nathan said. "Could it have been better? Sure. But I'll take my chances with that pitch more times than not. He didn't hit it great, but he hit it enough to get it through the infield, get some outfield grass, put it in the right spot. A lot of times that's what this game's about -- hit it where they aren't."
That's what Martin did with his two-run triple over Jennings' head in the second, a play that for Maddon was reminiscent of Curt Flood vs. Jim Northrup in the 1968 World Series. Maddon also was forgiving of Myers' misplay, saying that the rookie would have reacted differently if he had known that it was the speedy Andrus who was running. Both manager and player agreed that Myers would never make such a mistake again.
So many twists, so many turns. Rangers second baseman Jurickson Profar made his own rookie mistake in the sixth, a poor throw to first trying to double up Delmon Young after Myers slid hard into second. Sean Rodriguez followed with a two-out, two-run homer off left-hander Derek Holland, tying the score.
The Rays then prevailed in the battle of bullpens, their relievers allowing only one run in six innings. Their only slip-up occurred when Maddon went with Roberto Hernandez instead of Brandon Gomes to start the 11th -- the manager already had warmed up Gomes earlier and thought it would be difficult for him to pitch some two hours later. Naturally, Maddon had to use Gomes anyway with runners on second and third and two out in the 12th -- and Gomes struck out Ian Kinsler on three pitches.
The Rangers might have regained the lead that inning, but the Rays brought the infield in after Profar took second on defensive indifference. Martin hit a soft liner up the middle. Maddon noted that if Yunel Escobar had been playing at normal depth, he probably would not have caught the ball, possibly leading to two runs.
Rangers manager Ron Washington then left himself open for second-guessing in the bottom half, staying with left-hander Joseph Ortiz against the right-handed Jennings rather than making the move to right-hander Neftali Feliz.
Jennings redeemed himself. The Rays redeemed themselves. And in a quiet corner of the clubhouse, DeJesus was asked if his game-tying single was the biggest hit of his career.
"That actually means something? Yeah," DeJesus said. "That's a great way to put that."
Great moment. Great game. Great race.