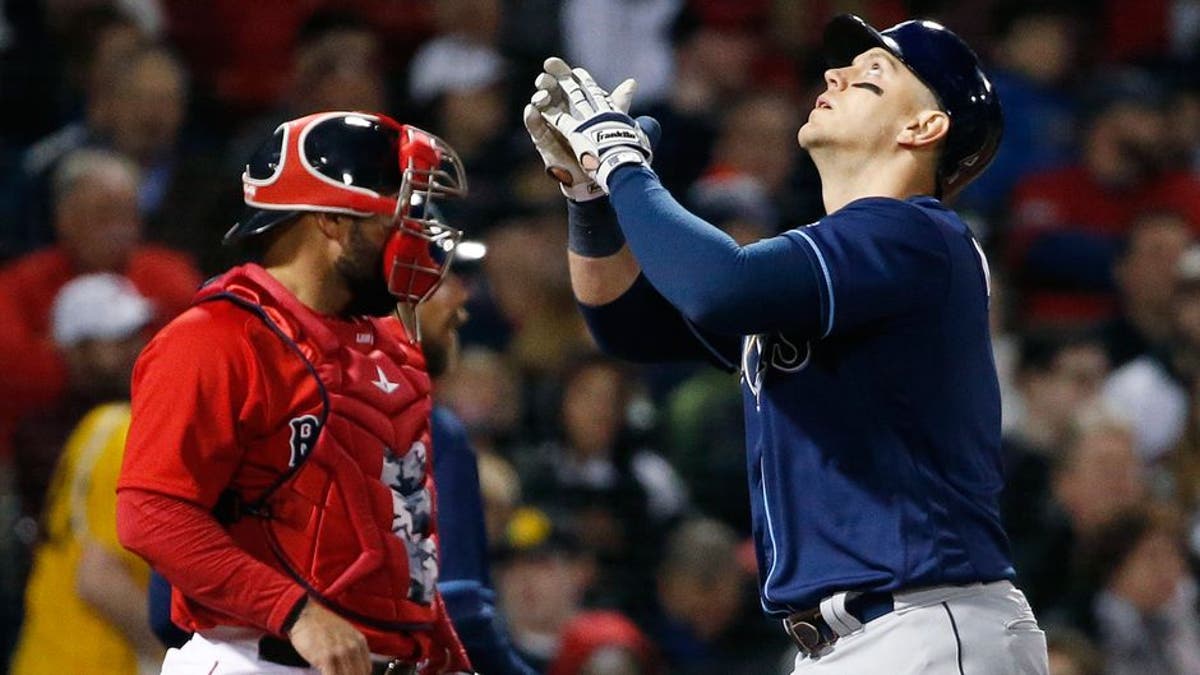 BOSTON (AP) -- Logan Morrison hit a grand slam and Shane Peterson homered in his first big league at-bat since 2015, two of the career-high four homers allowed by Cy Young Award winner Rick Porcello in the Tampa Bay Rays' 10-5 victory over the Boston Red Sox on Friday night.
Chris Archer (2-0) gave up one run in 5 2/3 innings, ending his 11-game losing streak against the Red Sox.
Brad Miller and Steven Souza Jr. also homered for the Rays, who were coming off losing three straight at Yankee Stadium. Peterson added an RBI single.
Boston's Mitch Moreland had his stretch of hitting a double in consecutive games stopped at seven, one short of the major league record. Mookie Betts had four hits for the Red Sox.
Porcello (1-1) gave up eight runs in 4 1/3 innings, halting the majors' longest active streak of pitching at least six innings at 20 games.
Peterson hooked a drive around the Pesky Pole in right, making it 2-0 in the second. The 29-year-old last played in the majors on Oct. 4, 2015, with Milwaukee.
Morrison increased it to 6-0 with his shot deep into the right-field seats in the third.
Miller and Souza Jr. went back-to-back, chasing Porcello in the fifth.
TRAINER'S ROOM
Rays: Put OF Mallex Smith on the 10-day disabled list with right hamstring tightness and recalled Peterson from Triple-A. "We wanted guys that had some history playing in the big leagues and Shane has that," Cash said of the club signing him during the offseason.
Red Sox: CF Jackie Bradley Jr., on the 10-day DL with a sprained right knee, wore a brace running on the field. Manager John Farrell said he might face ace lefty David Price in a simulated game this week. Price has been on the DL since early spring training with a strained left elbow.
MEMORABLE MOMENT
Fourteen-year-old Kerry Russell from Lynn had a special on-field moment while the Red Sox were taking BP.
Standing in a roped-off area on the warning track with other fans behind the batting cage, she was holding a picture of her standing with one of her favorite players -- Hanley Ramirez.
The slugger looked over and motioned for her to come out near the cage just behind home plate. He greeted her and signed the photo.
"He waved for me to come over and he gave me a big hug," she said, with a wide smile. "I was shocked."
SIGHTING
Singer/actor Donnie Wahlberg sat next to Boston's dugout. He got up and waved both hands in disgust when a challenge by the Red Sox went against them.
UP NEXT
Rays: RHP Jake Odorizzi (1-1, 4.50 ERA) is set to start Saturday. He finished strong in his last start Sunday against Toronto, retiring 16 of the last 17.
Red Sox: LHP Chris Sale (0-1, 1.23) looks for his first win with Boston despite two solid starts.