Rays' depleted pitching staff struggles, Heisey's slam sends Reds to 12-4 win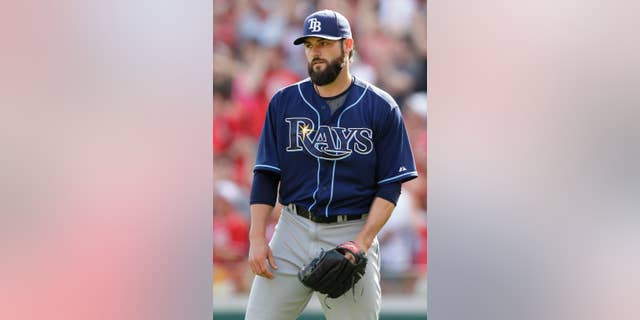 CINCINNATI – Pitching with a short-handed staff caught up with the Tampa Bay Rays.
Chris Heisey hit his first grand slam and Devin Mesoraco homered and drove in career high-tying four runs as the Cincinnati Reds took advantage of the Rays' pitching injuries for a 12-4 victory on Sunday.
The Reds' best offensive showing of the season featured Mesoraco's three-run homer, Joey Votto's two-run shot and Heisey's pinch-hit slam in the eighth. Jay Bruce doubled, walked four times and scored four runs.
Zack Cozart got it going with a bases-loaded double off Cesar Ramos (0-1), making his first start of the season because of injuries.
Given how the past week had gone, they could have seen this one coming.
"One of those days, man," manager Joe Maddon said. "You just file it and move on. This is less than the 30-minute rule. This is the 30-second rule. Just drop it and move on."
The Rays are 3-3 on a trip that has been tough on their rotation. Matt Moore went on the disabled list with a sore elbow on Tuesday, and Alex Cobb joined him Sunday with a strained oblique. Also, reliever Joel Peralta was sick, leaving him unavailable.
The injuries and illness affected the final game of the series. Cesar Ramos (0-1), who had made four relief appearances this season, started in Moore's place and helped the Reds' offense get unstuck. He left after giving up Votto's two-run homer in the third for a 4-2 lead.
"It was good the first inning, then just kind of fell apart a little in the second, came out in the third and they just jumped on the first strike I threw," Ramos said. "Things happened quick."
Maddon even batted Ramos eighth, figuring that he'd have to pinch-hit for him early anyway.
The Reds salvaged the final game of their interleague series but remained in last place in the NL Central at 4-8. The hitters have been the biggest problem, tied for last in the majors heading into the game.
The Reds had season highs in runs — they hadn't scored more than six in any previous game — and hits with 13.
Left-hander Tony Cingrani (1-1) gave up five hits in 6 1-3 innings. Ben Zobrist homered from both sides of the plate, hitting two-run shots off Cingrani and right-hander Nick Christiani.
Cincinnati came into the game tied with San Diego for fewest runs in the majors with 28. Ramos helped the Reds get going by walking the bases loaded in the second. Cozart hit a ground-rule double for his third hit of the season and a 2-0 lead.
"I wasn't missing by much," Ramos said. "I just didn't get a couple of strikes. That's the difference. You fall behind and you pay for it. I walked three guys in a row, which is unacceptable."
Votto's second homer of the series sparked a 10-batter, five-run third inning. Ramos left after throwing 47 pitches. Brandon Gomes relieved and gave up Mesoraco's homer.
Mesoraco added a sacrifice fly in the fifth. The catcher opened the season on the disabled list with a strained oblique. In four games the past week, he went 7 for 14 with three doubles, two homers and six RBIs.
Heisey connected in the eighth off Josh Lueke for his seventh career pinch-hit homer.
NOTES: The Rays open a three-game series in Baltimore on Monday, starting Chris Archer (1-0) against Wei-Yin Chen (1-1). ... The Reds continue their six-game homestand by hosting Pittsburgh. Homer Bailey (0-1), who has won his last five starts against the Pirates, goes against Wandy Rodriguez (0-2). ... Rays called up LH reliever Jeff Beliveau from Triple-A Durham to fill Cobb's roster spot, then sent him back after the game. LH Erik Bedard, who also was added to the roster on Sunday, will take Cobb's spot in the rotation for now. ... It was Zobrist's fourth career multihomer game. ... Reds starter Mat Latos was diagnosed with a sprained right forearm. He won't throw for 10 to 14 days. ... Third base umpire Tim Welke was honored before he worked his 4,000th regular-season game.
___
Follow Joe Kay on Twitter: http://twitter.com/apjoekay