Ray Rice tells 'Today' show he had 'one bad night,' hopes for 2nd chance from an NFL team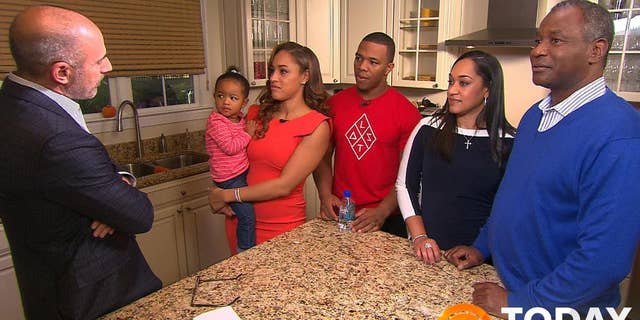 Ray Rice says that an NFL team "would have to be willing to look deeper into who I am and realize that me and my wife had one bad night."
"I took full responsibility for everything that I did," the former Ravens running back told NBC's "Today" show Tuesday, "and the only thing I can hope for and wish for is a second chance."
An arbitrator threw out Rice's indefinite suspension last Friday, making him a free agent. But no franchise may be willing to sign the three-time Pro Bowl pick after seeing the in-elevator video of Rice striking his-then fiancee, who is now his wife.
"If I never play football again, I'll be honest with you, I would adapt into life and I would sacrifice more so she can have a better future," Rice said while standing next to his wife and her parents.
NFL Commissioner Roger Goodell originally suspended Rice two games but increased the punishment after the video from February was made public Sept. 8. Baltimore released Rice that day.
Rice played in two preseason games for the Ravens this year. His last carry was a 6-yard run against San Francisco on Aug. 7. Rice, who turns 28 in January, had his worst season as a pro in 2013. He averaged a career-low 3.1 yards per carry and ran for 660 yards, ending a string of four consecutive seasons over 1,000 yards.
___
AP NFL websites: www.pro32.ap.org and www.twitter.com/AP_NFL
___
Follow Rob Maaddi on Twitter: https://twitter.com/AP_RobMaaddi