Ravens' Steve Smith jokes he might quit as soon as he gets an NFL milestone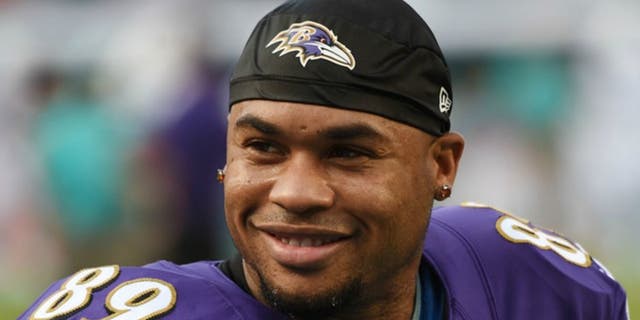 NEWYou can now listen to Fox News articles!
Steve Smith doesn't have to play football anymore. He's 37 years old and working his way back from a torn Achilles and has already played 13 seasons in the NFL, making five Pro Bowls.
He's made three All-Pro teams (two first-team) and played in a Super Bowl. He's had an incredible career.
But Smith is back with the Baltimore Ravens in 2016 and finally admitted the reason why: He's only here to reach an NFL milestone.
Sure, winning a Super Bowl would be nice, but Smith just wants to get his catches. He's at 961 receptions and badly wants to reach 1,000, which would make him the 14th player ever to reach that mark.
"One thousand receptions. That's why, to be honest," Smith told ESPN. "Why not? You have to have something to strive for.
"I may catch that [1,000th pass] in my uniform, get in my car and go home. Straight from there, drive all the way from M&T Bank [Stadium] straight to Charlotte, one shot."
Of the 13 players who've reached 1,000 receptions in their career, four of them are in the Hall of Fame (Jerry Rice, Cris Carter, Tim Brown and Marvin Harrison) and Terrell Owens and Isaac Bruce could join them at some point.
Smith's Hall of Fame case will also be helped by breaking the 14,000 career yards mark, which he's only 68 yards away from reaching.
"You think about the Hall of Fame, Smith said. "You think about the Super Bowl ... You think about a lot of things. Ultimately, it's out of my hands, but I just want to go out and have fun doing it."