Ravens' Justin Tucker delays conference call after signing record deal to grab sandwiches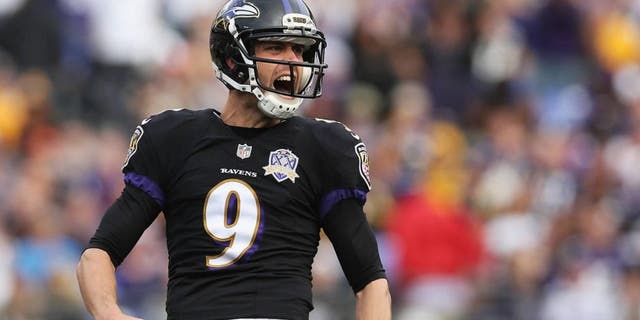 NEWYou can now listen to Fox News articles!
So what was the first thing on Justin Tucker's mind after signing a record contract with the Baltimore Ravens? It had nothing to do with how he would spend his newfound millions. No, Tucker was more concerned about how he could properly repay his in-laws for using their fax machine to sign his new deal.
"I had to postpone this conference call for about 10 minutes because I was in line at Potbelly's getting sandwiches for me and Amanda and my in-laws as a thank you to them for letting me use their fax machine," Tucker told the team's official website after signing a four-year, $16.8 million deal that included a record $10.8 million in guaranteed money.
But this wasn't the first time Tucker thought about food after a crucial moment in his career. Tucker celebrated making the team as an undrafted free agent in 2012 by going to Chipotle.
"I went and got a burrito from Chipotle and got the chips and guac and didn't worry as much about the spending the extra couple bucks on the guac," Tucker said. "This time around we're celebrating with some Potbelly's turkey sandwiches."