Ravens' Harbaugh confident in Schaub despite early struggles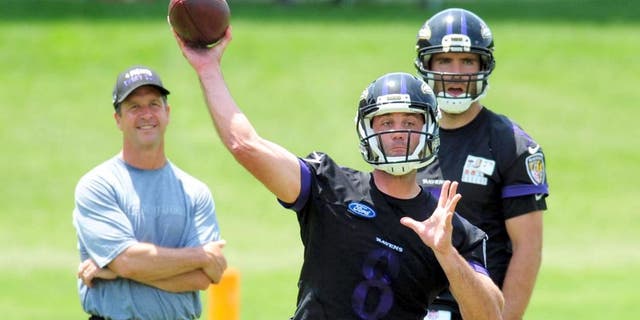 Another change of scenery hasn't made things any easier for Ravens backup quarterback Matt Schaub.
Schaub has made bad decisions and thrown numerous interceptions through the first week of camp, according to ESPN.com, continuing a downward slide that began in 2013 with the Texans. Schaub's frequent interceptions his last season in Houston cost him his starting job. He was expected to start upon signing with Oakland last year, but was quickly unseated by rookie Derek Carr.
Despite the continue erratic play, head coach John Harbaugh remains confident in Schaub's ability.
"I feel great about Matt Schaub as a backup quarterback," Harbaugh said via ESPN.com. "Matt is a heck of a backup quarterback, because he's a good player, and we feel comfortable that Matt can win for us."
Schaub was signed to a one-year deal worth a fully guaranteed $2 million to back up Joe Flacco this season. Flacco has started 112 straight games since assuming the starting job as a rookie in 2008.
Ravens fans are surely hopeful that streak doesn't end any time soon.
h/t: ESPN.com