Ravens' Forsett, 49ers' Smith provide assistance to Flint residents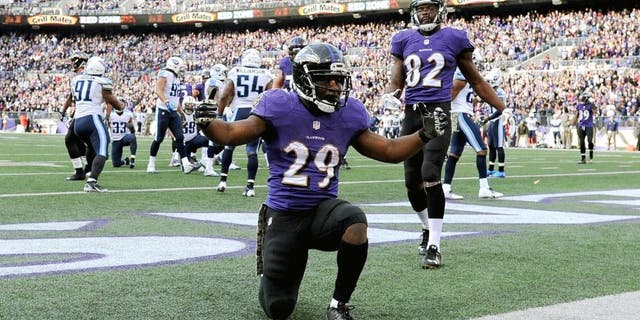 Baltimore Ravens running back Justin Forsett and former teammate Torrey Smith joined forces to help residents of Flint, Mich., deal with the city's water crisis.
Forsett and Smith, now a member of the San Francisco 49ers, were in the city Wednesday to help deliver about $100,000 worth of antibacterial body wipes and bottled water. Forsett enlisted a number of NFL players, along with his company ShowerPill - which produces the body wipes - to assist with the project.
Among the stops made by Forsett and Smith were visits to an adult day care and Southwestern High School, where students shared the everyday hardships they have been facing as a result of the city's water emergency.
In a video on Periscope, Forsett detailed some of the stories told to him by the students, conveying how one can "really hear the pain" in some of their voices.
"This is like a daily struggle of going to walk to get water in the snow or ... 'my skin is drying out, my hair is falling out,'" Forsett related. "To hear that story over and over again, like man, kids wearing wigs, that's crazy to me."
Among the notable players involved in the project are New Orleans Saints running back Mark Ingram, a Flint native, and Seattle Seahawks standout Marshawn Lynch, who announced his retirement earlier this week.
Smith, who played four seasons in Baltimore before signing with the 49ers in 2015, told Mlive.com that there are plans to make a return trip to Flint.
"Just looking around, you don't know which one of these houses or buildings is affected by this," Smith said. "And more so it makes me mad at the people that are running the place.
"It's just very unfortunate with the poor leadership. We just want to let them know that someone cares and it's not for show."