Ravens defensive lineman Haloti Ngata's versatility ranges from blocking back to long snapper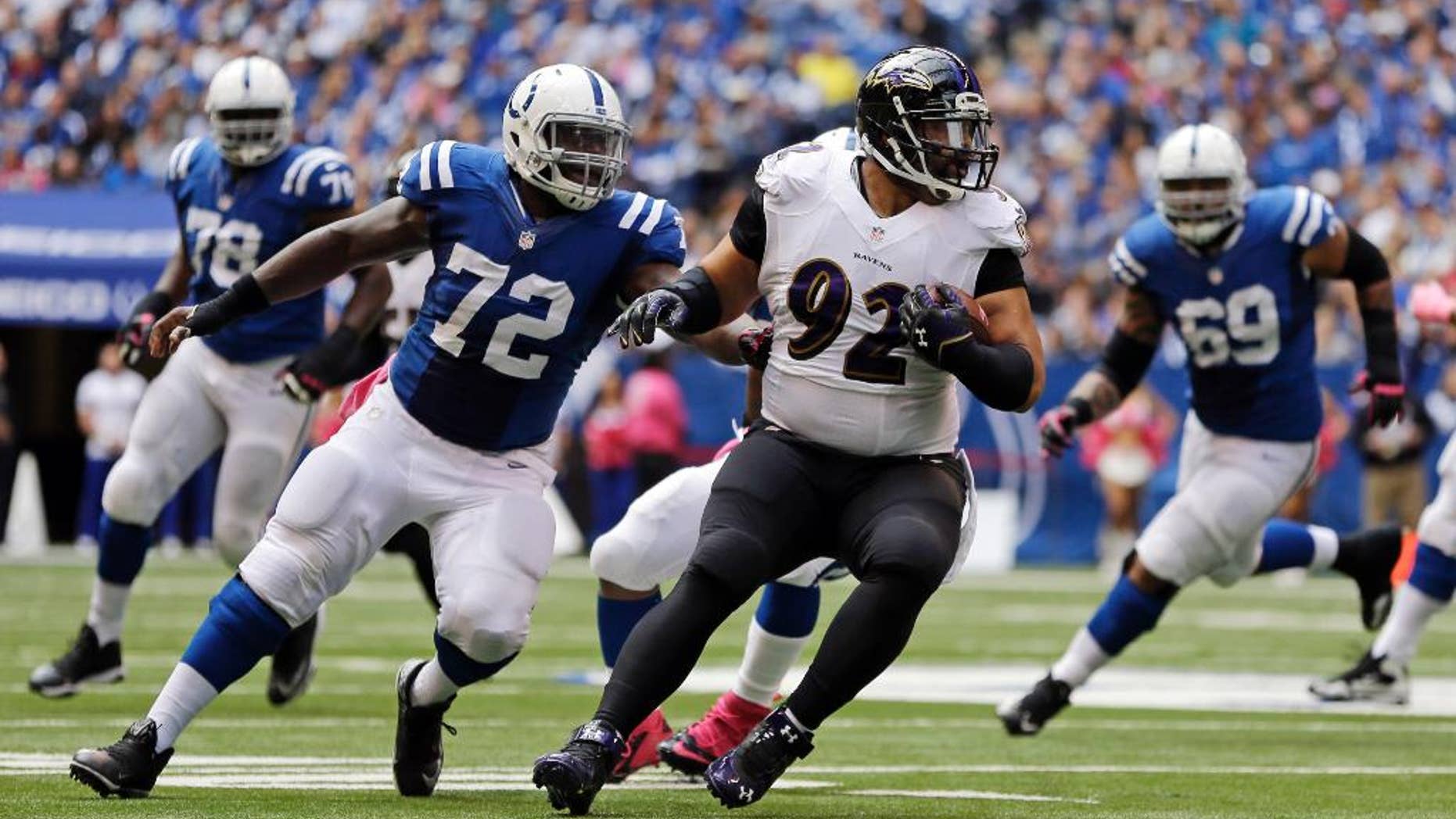 OWINGS MILLS, Md. – There is seemingly no limit to Haloti Ngata's versatility with the Baltimore Ravens.
The defensive lineman stops the run, intercepts passes, has served as a blocking back and last Sunday took over as the long snapper for injured Morgan Cox against Atlanta.
Ngata calmly stepped in as the emergency snapper on a fourth-quarter extra point and got the job done.
"The big guy, he does it all," linebacker Elvis Dumervil said. "He's very versatile. It's amazing. It's crazy to see him out there and making interceptions and snapping the ball and making tackles for loss. It's pretty cool to have a guy like that."
Ngata has been one of the NFL's top run stoppers since joining the Ravens as a first-round draft pick in 2006, earning Pro Bowl berths in each of the last five seasons. However, the 6-foot-4, 340-pound lineman helps the Ravens win in several other ways.
In addition to being the backup long snapper, Ngata's also has two interceptions this season — five in his career — and had six pass defenses. He's also recorded 16 tackles this year.
Ngata doesn't have a sack this year but has 23 ½ in his career. He's also played some offense in the past, occasionally serving as a blocking back in red zone situations.
The Ravens turned to Ngata to handle the long-snapper duties after Cox tore his right ACL in the fourth quarter against the Falcons. Coach John Harbaugh said Ngata regularly works with the special teams on snapping each week in case they have a situation like that one.
Ngata "goes in after Morgan's unfortunate injury and snaps a perfect ball back there on a short snap," Harbaugh said. "He did so well.for him to go in there and do that says a lot about him."
That's the first time Ngata ever needed to step in as the long snapper, and he enjoyed coming through when the team needed him.
"I'm (happy) I just got the ball back there," Ngata said. "It's awesome to be able to make those plays. Hopefully, whenever they call my number, I can do that for them."
Ngata again is a big part of a Ravens' defense that's improved in the last few weeks. They rank first in the NFL in fewest points allowed per game (14.9) and are seventh in the NFL in rushing defense, where Ngata plays a big role.
The defense will continue relying on Ngata for his solid play against the run Sunday at Cincinnati. Even though there's no question that Ngata helps the Ravens in so many ways, it's his strong work as a lineman that makes him so valuable and the defense tougher.
"I think we're still kind of determining what we can do," Ngata said. "We're still thinking that we can do a lot more things and be a better defense. So, hopefully we can do better in some other situations and continue to be a dominant defense."
___
Online:
AP NFL website: www.pro32.ap.org and www.twitter.com/AP_NFL