Rasmus becomes first free agent to accept qualifying offer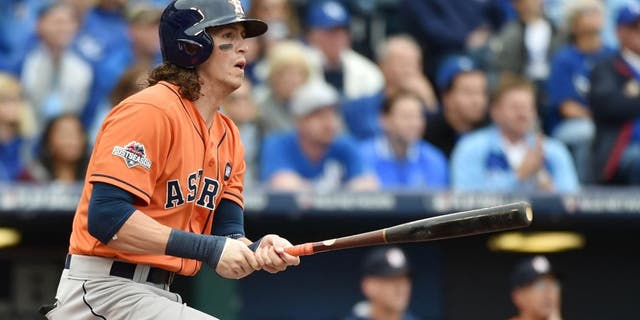 Oct 9, 2015; Kansas City, MO, USA; Houston Astros left fielder Colby Rasmus hits a RBI double against the Kansas City Royals in the first inning in game two of the ALDS at Kauffman Stadium. Mandatory Credit: Peter G. Aiken-USA TODAY Sports Peter Aiken
Leave it to Colby Rasmus to be the first to go against the grain when it comes to qualifying offers.
Since the start of the practice after the last collective bargaining agreement, not one free agent has accepted a qualifying offering in three years -- until Rasmus accepted the Houston Astros' one-year, $15.8 million offer. Had he rejected the offer, the Astros would have received a draft pick as compensation.
The outspoken Rasmus, who walks often to the beat of a different drum, earned $8 million on a one-year deal in 2015 with Houston.
While the Astros miss out on obtaining an extra draft pick with Rasmus accepting the deal, the team isn't upset about the outfielder's decision to sign the deal. Instead of hoping for a prospect to blossom into an everyday player, Houston is getting a sure-thing with Rasmus, at least for one more season anyways. Rasmus will join Carlos Gomez and George Springer as the likely starters in the Astros' outfield on Opening Day.
General manager Jeff Lunhow, who drafted Rasmus in the first round while he was scouting director for the St. Louis Cardinals, stated Monday, according to MLB.com's Brian McTaggart, he hoped that the outfielder would accept the offer and return for another season.
Rasmus' free agency stock rose significantly as he was a major factor in the Astros' postseason run hitting six homers, batting .412 in six games. He hit .238, hitting a career-high 25 home runs in 137 regular season games in 2015.
MORE MLB: Want stories delivered to you? Sign up for our MLB newsletters.