Rare 'Portland Trove' of early baseball cards up for auction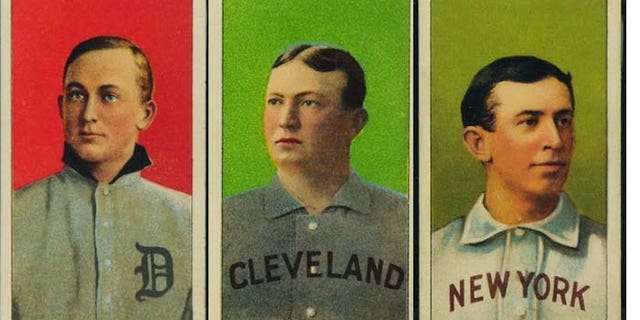 NEWYou can now listen to Fox News articles!
In 1909, Ed Burke had a bad habit that, more than a century later, would pay off for three grandsons: He smoked.
With each pack of cigarettes the Rockville Centre, N.Y., man smoked, he got a free baseball card from the legendary set that would become known as the T-206 series. Ty Cobb, Cy Young, Eddie Collins and Walter Johnson and a host of other future Hall of Famers were all among the cards printed by American Tobacco Company, whose ads for its various brands were featured on the back. Burke kept some 1,400 of the curious little picture cards that would launch a collecting obsession, and passed them on to his son, who passed them on to his sons.
"He had the intelligence and wherewithal to start saving them, and he handed them down, eventually to three grandsons," said Troy Thibodeau, of Saco River Auction Co., in Biddleford, Me., which is selling the collection, known as the "Portland Trove."
The grandsons, one of whom lives in Portland, Me., have declined to be identified, but their collection is well-known in baseball card collecting circles. The T-206 series, which was sold with smokes from 1909-1911, is the one that produced the most famous and valuable card known, the Honus Wagner that sold in 2007 for $2.8 million to Arizona Diamondbacks' co-owner Ken Kendricks.
"These are truly pieces of art. They're colorful, they're bright, they're folky, they're Americana."
The Wagner card -- the Holy Grail of baseball cards -- is rare. Only about 40 were distributed because the Pittsburgh Pirates' shortstop was adamantly against smoking and demanded that his card be discontinued.
While Ed Burke apparently never got a Honus Wagner, the collection he amassed could be worth close to $1 million. Saco River ended the first phase of the collection's auction, netting roughly $200,000 for 212 cards, including a Ty Cobb that fetched $3,700 and another card, of New York Highlanders' shortstop Kid Elberfeld that had a printing error on the back.
The next set is due to be auctioned beginning Feb. 18, with bids taken in person as well as by phone and online. And Thibodeau said owning a piece of history need not cost a fortune.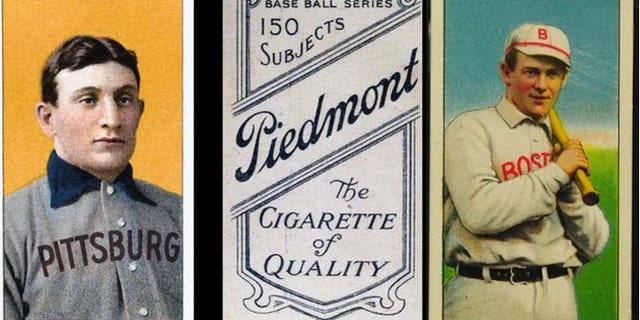 "A card in lesser condition of a stiff who never made it into the Hall of Fame might go for as little as $100," he said. "These are truly pieces of art. They're colorful, they're bright, they're folky, they're Americana."
Approximately 75 people attended this week's auction, with some traveling from as far as California. Others -- including the "big bidders," according to Hartford -- were on the phone.
Only 212 cards were sold earlier this week, so there are still many more batches to be sold. The "Portland trove" sure seems like a seven-figure collection of baseball cards.
Several million of the T-206 series of cards are believed to exist, and Thibodeau said there may even be one out there that is more valuable then the Wagner card owned by Kendrick. That card's excellent condition made it more valuable than the handful of Wagners known to exist, but another factor that makes T-206 cards valuable is the brand of tobacco advertised on the back. Cobb, who would be known as a financially-savvy investor all his life, had his own brand of tobacco and there are a few cards that feature him on the front and an ad for his cigarettes on the back.
"If somebody ever comes up with a Cobb-Cobb in [mint] condition, I believe that one would break all the records," said Thibodeau.