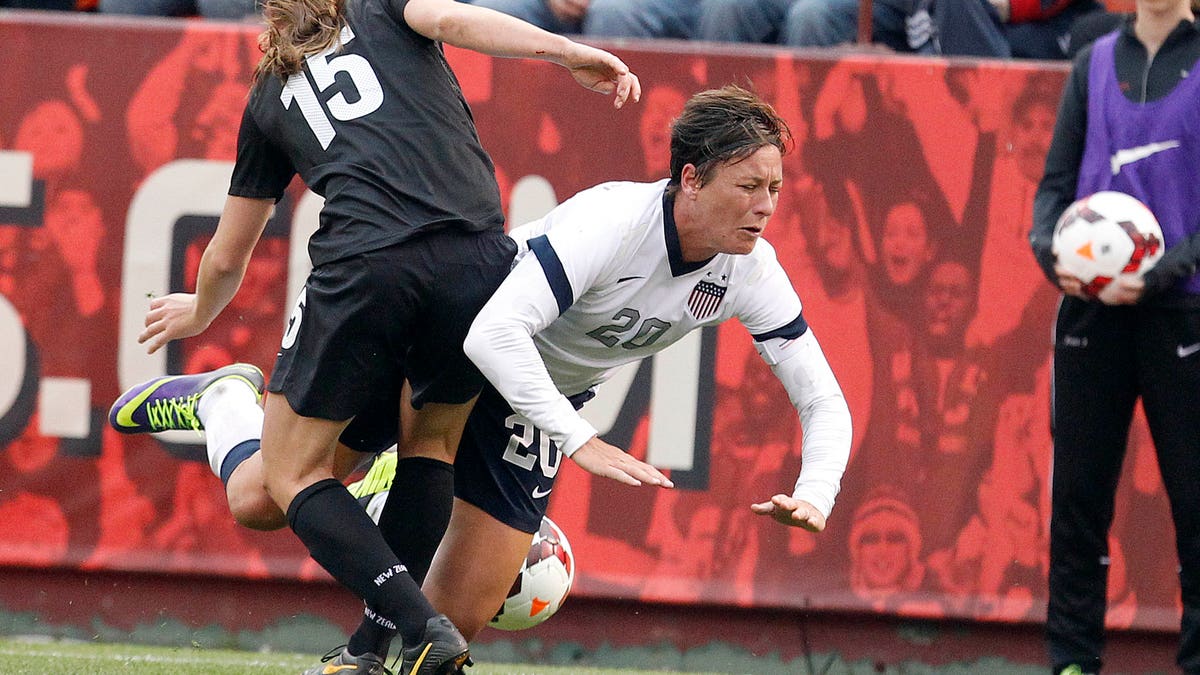 SAN FRANCISCO – Megan Rapinoe, Carli Lloyd, Christen Press and Heather O'Reilly scored to help the U.S. women's soccer team beat New Zealand 4-1 in an exhibition game Sunday at Candlestick Park.
Hannah Wilkinson, a junior at Tennessee, scored for New Zealand.
The Americans improved to 12-0-2 this year. They extended their overall unbeaten streak to 37 games and their home unbeaten streak to 75, a stretch that dates to 2004.
Hope Solo had a pair of saves in the first half, including a 1-on-1 with Wilkinson. Nicole Barnhart was in the net for the second half.
Rapinoe opened the scoring in the seventh minute, converting a free kick from just outside the penalty box that she directed into the upper left corner.
Rapinoe returned to the United States from France, where she plays for Lyon, less than a week ago. It was her 23rd career goal.
Lloyd created her own scoring opportunity in the 12th minute, stealing the ball from a defender and dribbling it into the box. She beat goalkeeper Erin Naylor to the near corner.
Lloyd scored in consecutive games for the first time this season. She has 46 goals to break a tie with Julie Foudy for the career U.S. lead among players who have played exclusively in the midfield.
Press scored in the 42nd minute, executing a give-and-go with O'Reilly just outside the box. She kicked it low and hard to the far post for her eighth goal in 11 games.
The U.S. messed up a clear at the top of the box and Wilkinson was there to take advantage. Her short-range shot was blocked by Barnhart, but bounced directly back to her. She didn't miss the second try.
O'Reilly scored in the 87th minute.
The U.S. women played their first game in San Francisco since the inception of the program in 1985.
U.S. forward Alex Morgan injured her ankle during a training session last week and was unable to play. Midfielder Tobin Heath (foot) and defender Kelley O'Hara (ankle surgery) also were out.
The Americans are in the midst of three games in 10 days. They beat Australia 4-0 in San Antonio on Oct. 20 and will play New Zealand again in Columbus, Ohio, on Wednesday night.