Ranking the top 10 running backs in the NFL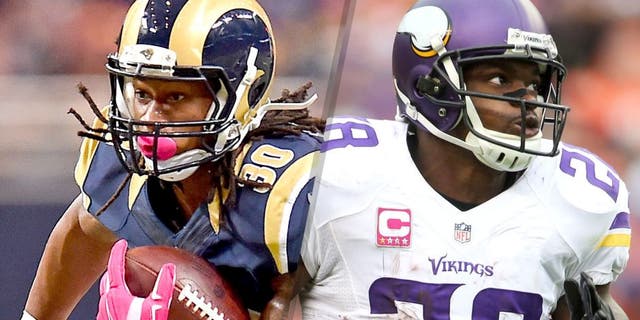 NEWYou can now listen to Fox News articles!
The running back position isn't one for players over the age of 30. It's a position that is no longer a premier one given the fact that so many backs have the ability to rush for 1,000 yards on very cheap contracts. That's a big reason why so few teams take running backs early in the draft. When they do, though, it tends to pay off with rare talents.
Adrian Peterson was a high draft pick back in 2007, going seventh overall. Todd Gurley went in the top 10, too, as did Ezekiel Elliott. But there are also players with a great deal of potential who slip through the cracks like Thomas Rawls. The league is loaded with extremely talented running backs despite the fact that so many teams refuse to pay them with lucrative contracts and high draft picks.
Here are the top 10 running backs in the NFL for 2016, led by the only 30-year-old on the list.
Previous rankings:
Until someone comes and takes his crown, Adrian Peterson is the best running back in football. After missing 15 games in 2014 due to suspension, some questioned how fresh he would be last season. Thanks to his freakish athleticism and work ethic, Peterson showed no signs of slowing down, even at the age of 30. Peterson is now entering his 10th season and is 31 years old, but age has yet to catch up with him. He'll once again receive more than 300 carries in 2016 and will probably lead the league in rushing so long as he stays healthy.
Last season, Peterson rushed for 1,485 yards and 11 touchdowns, adding 222 yards receiving as well. He was the Vikings' go-to player on offense and he'll remain such this season, too. Minnesota doesn't have a prolific aerial attack and relies on Peterson's legs to carry the load and move the ball on offense. As a result, he's going to receive 20 carries a game and should average 4.5 yards per attempt as he typically does. With the addition of Laquon Treadwell and the emergence of Stefon Diggs, the Vikings should be able to have more success throwing the ball, hopefully leading to bigger running lanes for Peterson.
The one player closest to surpassing Peterson as the best back is Todd Gurley. It may sound ludicrous to anoint a 21-year-old who's started 12 games as a threat to overtake Peterson, but that's what Gurley is. He's the best running back to come out of college since Peterson in 2007 and provides the Rams with the whole package. Gurley has the power, speed and vision to be a perennial Pro Bowler and All-Pro, which he showed as a rookie last season. Despite only playing 13 games, Gurley still managed to rush for 1,106 yards and ranked fourth in yards per game (85.1).
In Los Angeles, where there is no established quarterback and a terrible wide receiver corps, the Rams will be forced to lean on Gurley week in and week out. That's both a good and bad thing for him, given his effectiveness as a runner, but also the wear and tear he'll experience early in his career. It's just that the Rams don't have many other options on offense. If Gurley can remain relatively healthy and avoid serious injuries, he could go down as one of the best backs to play the game, much like Peterson will.
The 2015 season was a mess for Le'Veon Bell. He started the year by being suspended for the first two games, but that wasn't the worst of it. In Week 8, he tore up his knee when he was tackled on the sideline, forcing him to miss the remainder of the season. In all, he played just six games and gave way to DeAngelo Williams as the starter in his absence. In those six games, Bell averaged a career-high 4.9 yards per carry and was rushing for the second-most yards per game in the league (92.7). Had he not gotten hurt, Bell very well could have led the league in rushing despite missing the first two games.
Now entering 2016, his knee still remains a question mark. The Steelers need him to be healthy for the start of the season, even if he's forced to miss some, if not all of training camp. He should be ready by then, but they'll be sure to take it slow with their star running back. Bell is a serious contender to win the rushing title and should have a huge year with more than 1,400 rushing yards and upwards of 700 receiving.
David Johnson played extremely well after stepping in for the injured Chris Johnson late in the season. In five starts, he averaged 88 yards rushing per game at a clip of 4.9 yards per carry, while also adding 216 yards receiving in that span. Like Gurley, Johnson has all of the tools to be a phenomenal back -- size, incredible speed, agility -- he just needs opportunities. Bruce Arians said he can be "one of the all-time best" in the NFL, which shows the faith Arizona has in him and the potential he possesses. Johnson should be the starter in 2016, a title he'll hold for many years to come in Arizona.
Although he doesn't have the most experience and wasn't a highly touted prospect out of Northern Iowa, Johnson should easily surpass 1,000 yards rushing and add at least 500 yards receiving. He'll have a breakout campaign in 2016 and should earn a Pro Bowl bid with ease. Johnson will run you over up the middle then run by safeties in the secondary, which few backs in the league can do. He's the whole package.
Cowboys rookie Ezekiel Elliott hasn't played a single snap in the NFL, yet by the end of the 2016 season, it'll be easy to see why Dallas took him fourth overall in the draft. Elliott is not only an outstanding runner of the football, but he's already the best blocking back that the Cowboys have. In college, he was as willing as they come with regards to protecting his quarterbacks, which not enough people give him credit for. After all, there is more to playing running back than just racking up yards.
Of course, Elliott will be doing that too in 2016. Carrying the football behind Dallas' road-grading offensive line will be a huge factor in the success Elliott has. He couldn't have found himself in a better situation, and it will show. 1,300 yards is not out of the question for his rookie year despite Dallas' crowded backfield of Darren McFadden, Alfred Morris and Lance Dunbar. Elliott will emerge as the surefire starter in camp and never look back.
After playing just 17 games total in 2013 and 2014, Doug Martin returned to his rookie form when he rushed for 1,454 yards and 11 touchdowns. The biggest reason why he was able to succeed in 2015 is simple: health. Martin played all 16 games, carrying it 288 times for 1,402 yards. He led all qualified backs at 4.9 yards per carry, the highest of his career. Some may ask why he's not higher on this list, which is a valid question after the campaign he had in 2015. However, don't forget about his injury history and lack of effectiveness in 2014.
It's hard to bet on Martin to play all 16 games once again, and it's even more difficult to say he'll average 4.9 yards per rush as he did last season. The potential to replicate his 2015 performance is there, though. In a backfield without much of a threat to Martin's job, he should receive the majority of the carries again. And with the development of Jameis Winston, the Bucs' passing game should improve, thus opening up running lanes for Martin.
If not for injuries throughout his career, Jamaal Charles might be up there with some of the best since coming into the NFL. Unfortunately, he's lost two seasons to knee injuries, including this past one when he missed 11 games. Charles was having an outstanding year, averaging 5.1 yards per carry with 541 total yards in the five games before that. The last time he tore his ACL, Charles returned to rush for 1,509 yards in 2012. Will he be able to do the same in 2016 after suffering another severe knee injury? There's little reason to believe he won't be able to. It's still unclear if he'll be back by the start of training camp but after doing individual drills last month during offseason workouts, it looks promising. At the very least, he should be ready for the start of the season, which is most important. The reason he's No. 7 on this list and isn't higher is because there are still question marks about his health and the Chiefs' backfield is a bit crowded now after the emergence of Charcandrick West and Spencer Ware.
LeSean McCoy had high expectations when he was traded to the Bills. He was one of the best running backs in the league at the time of the trade, coming off of back-to-back seasons in which he rushed for 1,607 and 1,319 yards, respectively. Contrary to belief, McCoy is actually fairly durable, missing just six games in six seasons prior to 2015. Last season, however, he dealt with a torn MCL that forced him to sit out four games. Still, he averaged the sixth-most yards per game in the league. His touchdown numbers were lacking -- just three on the ground -- but he was never much of a goal line back. The Bills' backfield is a bit crowded now with Karlos Williams, Mike Gillislee and Anthony Dixon, but that should help keep McCoy fresh and healthy. Behind the Bills' offensive line, which is a bit underrated, he should have a big season with 1,300-plus yards.
The Seahawks will be without Marshawn Lynch for the first time since 2009, but their backfield is in good hands. Thomas Rawls emerged as a worthy successor to Lynch last season when Beast Mode was injured. Unfortunately, his outstanding rookie campaign was cut short due to a broken ankle after just seven starts. In 13 games, he rushed for 830 yards and four touchdowns, displaying a rare combination of brute strength and speed to run by safeties in the open field. He's not as powerful as Lynch was (because who is?), but he did have his share of highlight reels featuring him running over defenders. Rawls now takes over as the lead back in Seattle, which boasts a handful of rookies behind him. So long as Rawls is able to return to full strength for the start of the season, he'll be in for a big year and possibly a Pro Bowl bid. He has the ability to rush for 1,200 yards and double-digit touchdowns.
No free agent move was bigger for a single player than Lamar Miller signing with the Texans. Miller is a great running back who never put up eye-popping numbers because of his coaching staff. He was never handed the ball on a consistent basis, carrying it 20-plus times just once in the past two seasons. That can't happen for a No. 1 running back who has the talent to break a long run on any given play. Now in Houston, Miller should be handed the ball much more often. That fact alone makes him a top-10 running back. He's averaged 4.6 yards per carry in his career and has more than 880 career receiving yards in four seasons, proving that he's a dual-threat in the run game and passing game. Not to mention, he's incredibly durable, having played all 48 games in the past three years. Miller will finally get his share of carries with his new team and everyone will see just how talented he is.
Just missed: Eddie Lacy, Devonta Freeman, C.J. Anderson, Mark Ingram, Jonathan Stewart