Ranking the most unlikely champions in soccer history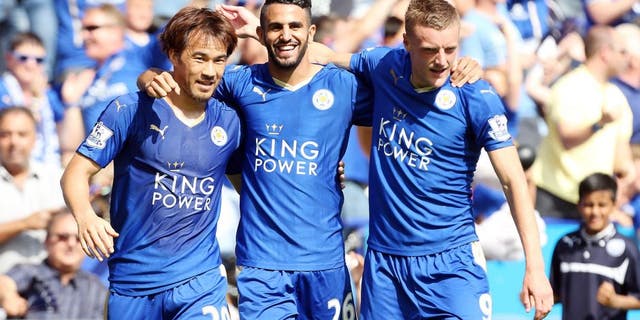 Let's face it: We're suckers for Cinderella stories. Fortunately for all soccer fans, the beautiful game has provided us with yet another Hollywood script.
Currenlty sitting five points atop the Premier League table ahead of Sunday's clash vs. Arsenal, Leicester City are on course for one the most surprising title successes in soccer history. The Foxes' meteoric rise has been nothing short of remarkable but their improbable run raises an interesting question: Where would Leicester rank if they finish the job?
FOXSoccer.com has gathered up ten unlikely championship runs that captivated the hearts and imagination of millions across the globe. Here now -- in no particular order -- are the best fairy-tale endings of all-time:
Dundee United (1982-83 Scottish League Premier Division)
One of the great upsets in world football, this tiny provincial side managed to win the crown on the final day of the season, beating arch-rivals Dundee at Dens Park. How big an upset was this? Consider that United downed not only Celtic and Rangers, but an Alex Ferguson-managed Aberdeen. Consider also that this same team would reach the semifinals of the European Cup the following year, going out in gravely controversial fashion to Roma. In terms of money and size, this was a triumph akin to the Toledo Mud Hens winning the World Series.
Kaiserslautern (1997-98 Bundesliga)
Kaiserslautern upset defending champions Bayern Munich on the very first matchday of the season and beat them again in the reverse fixture as the Red Devils became the first promoted side to win the Bundesliga. It was sweet revenge for legendary miracle worker Otto Rehhagel -- who also led Greece to their famous 2004 Euro triumph -- after Bayern had fired him just two years earlier.
Denmark (1992 UEFA European Football Championship)
Denmark wasn't even supposed to be there. Yugoslavia finished ahead of the Danes in qualifying, but severe UN sanctions over the war in Bosnia forced UEFA to kick Yugoslavia out of the tournament. Denmark replaced them, and with only a week's worth of preparations and without their top player Michael Laudrup, overcame a slow start to shock defending champions Netherlands on penalties in the semifinals and stun World Cup champions Germany in the final.
West Germany (1954 FIFA World Cup)
If not for a late, ruled-out equalizer from Ferenc Puskas, West Germany's post-World War II triumph over Hungary may have never been. The West Germans were thumped by the Mighty Magyars, 8-3, in the opening round and did a number on the World Cup-less Hungarians. Tagged "The Miracle of Bern," it remains arguably the greatest achievement, albeit controversial, in German football lore to date.
Steaua Bucharest (1985-86 European Cup)
Barcelona, having never experienced European glory, were destined to be now. A plucky Steaua Bucharest played it safe and survived 120 minutes against the Catalans, however, and Helmuth Duckadam stood in the way, producing one of the great goalkeeping displays ever. Duckadam saved all four Barcelona penalties in a shootout in Seville to bring the European Champion Clubs' Cup to the east of Europe for the first time ever.
Ipswich Town (1961-62 Football League First Division)
Considered perhaps the biggest upset ever in the English game, Alf Ramsey took a Tractor Boys side that had progressed up from the old Third Division (South) to an unlikely First Division title. Pegged as relegation fodder at the season's start, Ipswich had in fact never even been in the top-flight before this season -- but led by Ray Crawford's 33 goals, Ipswich won the title on the final day with a 2-0 triumph over Villa. Ipswich, unfortunately, would be relegated just two seasons after their lone top-flight title.
Once Caldas (2004 Copa Libertadores)
The surprise winners of South America's biggest club competition, Once Caldas famously defeated Argentine giants Boca Juniors on penalties to become the second Colombian team to win the tournament. Leading a bunch of unknowns turned manager Luis Fernando Montoya into the world's hottest managerial commodity -- so much so he was rumored to replace Reinaldo Rueda as Colombia's national boss in 2005. Sadly, paralysis caused by a gun shot during a robbery attempt robbed Montoya from such opportunity.
Atletico Madrid (2013-14 Spanish Primera Division)
Since the turn of the millennium, only four teams -- Deportivo de La Coruña, Valencia (2) and Atletico Madrid -- have won La Liga other than Barcelona and Real Madrid. A year after celebrating their Copa del Rey victory over Real at the Santiago Bernabéu, Los Colchoneros stormed into Camp Nou, drew Barcelona on the final day and stole the league title from the Catalans for their first in 18 years.
Uruguay (1950 FIFA World Cup)
Famously dubbed "El Maracanazo," the 1950 World Cup "final," better regarded as the final round-robin rubber match of a four-team pool between hosts Brazil and neighboring minnows Uruguay, was one to remember. The almighty Brazilians were pummeling the opposition left and right before failing to get over the final hurdle that was Uruguay in front of a whopping 174,000 at Maracana.
Greece (2004 UEFA European Championship)
Without a single international star but led by the extraordinary Otto Rehhagel, Greece produced the most shocking championship in international soccer history. Relying on their extraordinary discipline, fitness and stout defense, Greece beat defending champions France, the Czech Republic at their peak, and hosts Portugal and its "Golden Generation" around Luis Figo and a young Cristiano Ronaldo -- with Angelos Charisteas scoring the winner in both the opening match and the final.