Ranking Europe's big domestic cup final matchups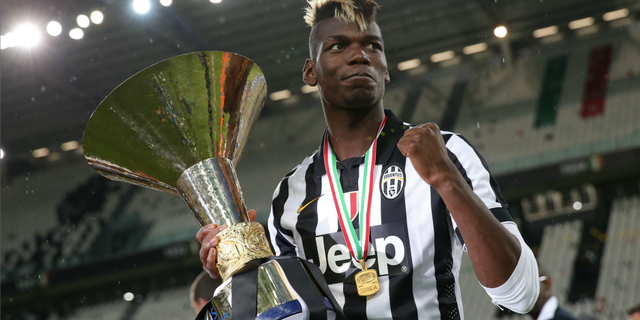 NEWYou can now listen to Fox News articles!
With every major league in Europe having finished play last weekend and the Champions League final between Real and Atletico Madrid still a week away, the planet's attention falls squarely on the five big domestic cup finals this weekend.
Luckily, all of them have an intriguing matchup on offer this year, with Crystal Palace really being the only odd name that's on the weekend card. So which of the five finals is the main event? Here, we've gone ahead and ranked them for you:
5. Coppa Italia: AC Milan vs Juventus (Saturday, 2:45pm ET)
This is actually a fantastic matchup, if only it were 2005. Unfortunately, it's 2016, and in 2016, Juventus are the five-time defending Serie A champions and heads and shoulders above the Rossoneri, who will miss out on European football for a third straight season after finishing 7th in the league.
Then again, it is still a final between two rivals and two of the three biggest names in Italian football. And this could be Milan's big chance to finally win something again and break back into relevancy, not to mention deny title-spoiled Juve a second straight domestic double. There's also the chance of Mario Balotelli doing something crazy, so we've got that going for us.
4. Coupe de France: Olympique Marseille vs Paris Saint-Germain (Saturday, 3pm ET)
If this is indeed Zlatan Ibrahimovic's farewell match in Paris, it's fitting that it should come in Le Classique. Zlatan is the all-time leading scorer of France's fiercest rivalry with 9 career goals against Marseille -- yes, in just four seasons in France --€" and he can add to that tally and win one more title to close out his wildly successful stint at PSG.
Marseille, meanwhile, landed in the bottom half of the league after a miserable finish to the season, but they'll be motivated to ruin the party at the Stade de France. PSG handled Marseille both times they met this season, but they were only a pair of narrow 2-1 wins. If you paid any attention to Ligue 1 this season, that's actually a promising sign for Marseille. Could an upset be on the cards?
3. FA Cup: Crystal Palace vs Manchester United (Saturday, 12pm ET on FOX)
Don't laugh, this actually could be a sneaky good final. United will be motivated to end the season on a high note for the first time since Sir Alex Ferguson retired, while Palace have a chance for payback against the team that beat them in their only other FA Cup final appearance 26 years ago.
Yes, Louis van Gaal's United were largely unwatchable this year, and Palace wilted phenomenally after putting together a strong first half to the season, picking up just 11 league points since New Year's Day. You could make a good case that both of these teams are train wrecks. But did you watch the semifinals? Let's not forget, Everton were also train wreck, and United and the Toffees still served up one of the more memorable FA Cup games in recent memory. Sometimes bad soccer really is the most entertaining soccer.
And did any of us think Arsenal vs Hull two years ago would turn into an extra-time thriller? Did we think Manchester City vs Wigan in 2013 was going to be a classic? Both of those finals more than made up for their lack of allure in drama, and this year could be no different.
2. Copa del Rey: Barcelona vs Sevilla (Sunday, 3:30pm ET)
Barcelona are back-to-back La Liga champs who probably still won't deem this season a success unless they complete the double. Such is life after you win everything in sight a season ago. Sevilla are now back-to-back-to-back Europa League champs who, with a win Sunday, could become the first side not named Barca to win three Copa del Reys in this millennium.
Each club took three points off the other in their La Liga matchups this season, but it's their encounter in preseason that really has us clamoring for this one. Barcelona and Sevilla met in an absolutely bonkers UEFA Super Cup last summer. Barca won 5-4 on Pedro's winner in extra time, which was only necessary after Sevilla came back from a 4-1 second-half deficit!
Lionel Messi also scored not one, but two spectacular free kick goals in that game. So yeah, sign us up for more of that, please.
1. DFB-Pokal: Bayern Munich vs Borussia Dortmund (Saturday, 2pm ET)
It doesn't get better than this. The two rivals were once again in a class of their own in the Bundesliga this season, and they'll square off in Berlin's Olympic Stadium for the fourth cup final in nine years, with Bayern having won two of the previous three.
This one isn't short of storylines. Bayern will look to avenge their defeat to BVB in the semifinals last year, when Bayern phenomenally missed all of their penalties in the shootout. Conversely, Dortmund will try to get back at Bayern for what happened in the last final in 2014, in which Mats Hummels had a potentially game-winning goal controversially disallowed before Bayern won in extra time.
That same Hummels will now be making his final start in black and yellow before joining Bayern this summer --" a transfer that's been fanning the flames between the two rival fan bases for weeks. If that's not all enough, Pep Guardiola will also serve his final game in charge of Bayern. In other words, getcha popcorn ready.
MORE FROM FOX SOCCER