Rangers know they need catching upgrade, but Lucroy trade a 'dream'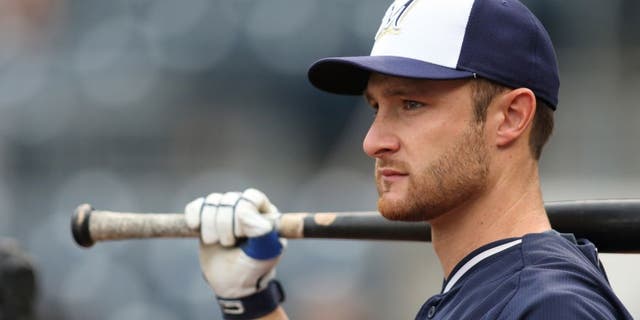 NEWYou can now listen to Fox News articles!
The Texas Rangers managed to win the AL West in 2015 without a full-time catcher. Down the stretch, they entrusted journeymen Chris Gimenez and Bobby Wilson with catching responsibilities, and Robinson Chirinos chipped in when he was healthy enough to do so.
Still, with Gimenez and Chirinos the only catchers on the 40-man roster as it stands today and no real organizational depth at the position, it's obvious the Rangers ought to find a long-term solution.
GM Jon Daniels spoke with Evan Grant of the Dallas Morning News about the Rangers' 'miracle' that was the 2015 catching experience, indicating that yes, the club is desirous of an upgrade:
Grant adds that the Rangers have 'checked in' with the Milwaukee Brewers regarding catcher Jonathan Lucroy, who would obviously be a great fit in Arlington - but Grant noted that any thoughts of a deal are 'nothing but a dream' at this point.
Other options such as Dioner Navarro would have been a fine pickup for the Rangers, but he's since moved on to another club and taken himself off the market.
Rangers manager Jeff Banister is also quoted in Grant's piece as being fully aware of the importance of a full-time catcher on a contending team's roster:
This is obviously something that means a great deal to Texas, and it's an area they'll almost assuredly address as the offseason rolls along.