Rangers hope the third time is a charm as they bring back Josh Hamilton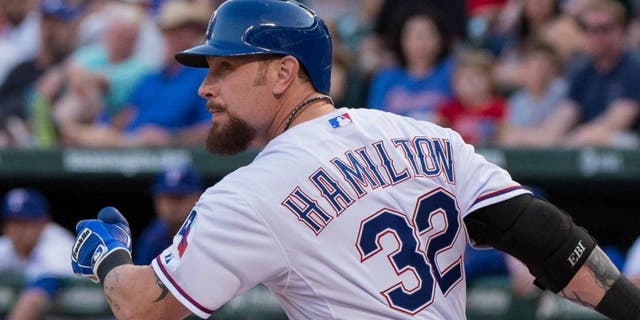 NEWYou can now listen to Fox News articles!
Josh Hamilton is back with the Texas Rangers, who announced Tuesday that they have signed him to a minor-league deal.
Hamilton, 35, didn't play at all during the 2016 season while rehabbing from left knee surgery. He was released by the Rangers last August.
After his trade from the Angels to the Rangers in April of 2015, Hamilton hit .253/.291/.441 with eight homers, eight doubles and 25 RBI in 50 games.
Hamilton was an All-Star with Texas in each season from 2008-2012 -- hitting .305/.363/.549 with 142 homers and 506 RBI during that span and earning AL MVP honors in 2010. He signed a five-year, $125 million free-agent deal with the Angels after the 2012 season, though he lasted only two seasons in Los Angeles.
In an effort to stay healthy, Hamilton could make the move from the outfield to first base this season. The Rangers have a need there (and at DH) after losing Mitch Moreland and Carlos Beltran to free agency. However, it remains to be seen how much -- if anything -- Hamilton can contribute offensively and defensively.
Beset by substance-abuse problems early in his career after being the first overall pick by the then-Tampa Bay Devil Rays in 1999, Hamilton has been sidelined by numerous injuries in the past three seasons.