Rangers' Hamilton plenty thankful for his 4 HR-game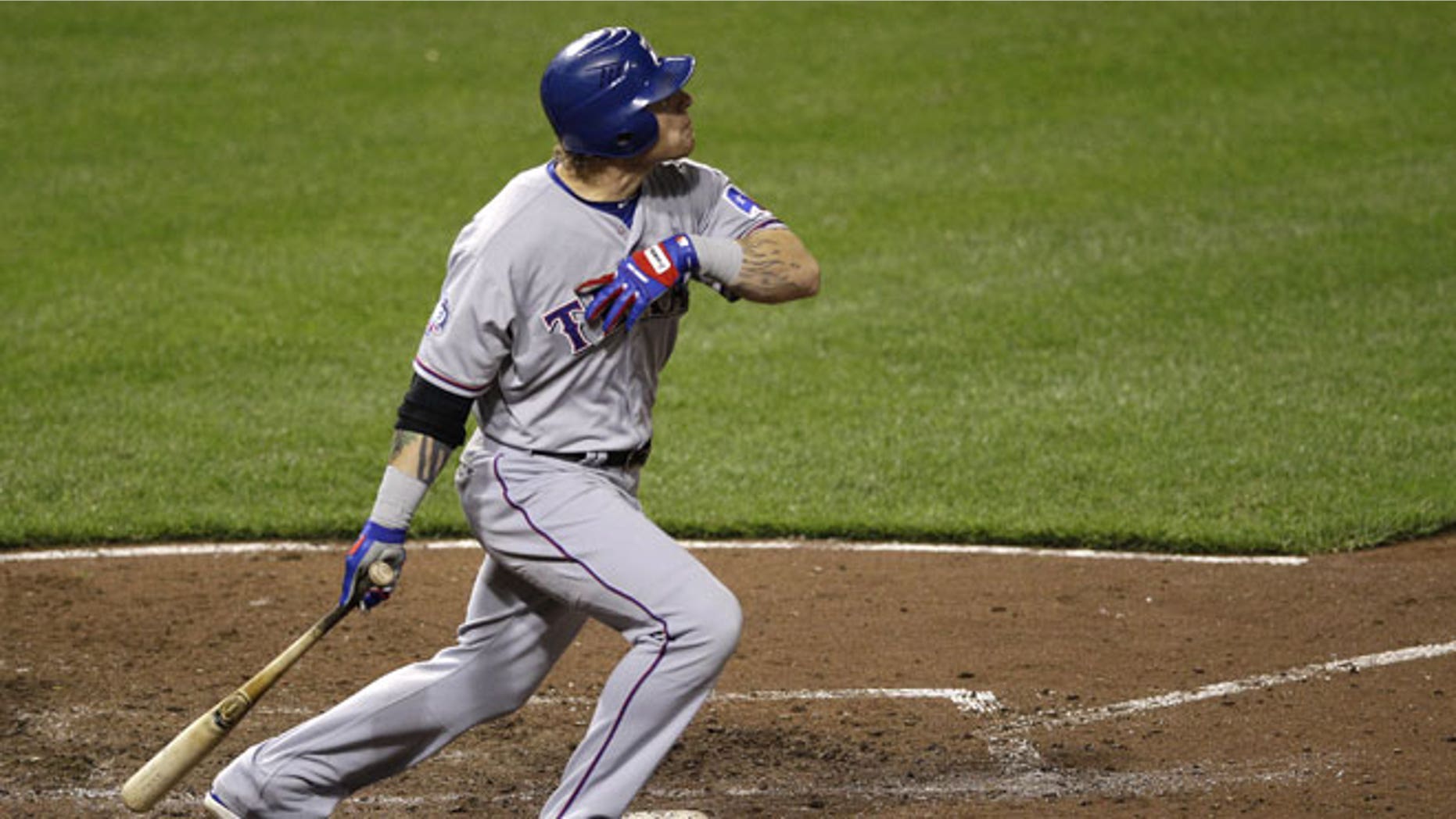 BALTIMORE – Josh Hamilton expects it will take some time before he realizes the significance of becoming the 16th player in Major League Baseball history to hit four home runs in a game.
He does, however, appreciate how fortunate he was to be playing at Camden Yards on Tuesday as a member of the Texas Rangers. Because, before his epic performance against the Baltimore Orioles, Hamilton had to do something even harder than launching a quartet of two-run homers.
He needed to save himself from personal ruin.
Hamilton went from first-round draft pick by Tampa Bay in 1999 to out of baseball altogether because of drug and alcohol addiction.
He recovered and returned to MLB in 2007 with Cincinnati, and was traded to Texas, where he has become a star -- the American League Most Valuable Player in 2010 -- while still battling his addiction. He had a relapse before this season, but is off to a strong start.
After going 5 for 5 with a career-high eight RBIs and setting an AL record with 18 total bases in the Rangers' 10-3 win, Hamilton reflected on what his life was like before this unforgettable night.
"I think about what God's done in my life, everything I did to mess it up," he said. "To finally surrender everything and pursue that relationship with Christ on a daily basis and understanding when I don't pursue it, I end up messing up. Understanding that what I'm doing and what God's allowed me to do, coming back from everything I went through and allowing me to play the game at the level I play it, it's pretty amazing to think about."
Few players in the game today are playing at Hamilton's level. He's batting .406 and leads the majors with 13 homers and 36 RBIs.
That's impressive, but not as mind-blowing as his outstanding effort against the Orioles.
Hamilton homered off Jake Arrieta in the first and third innings, added another off Zach Phillips in the seventh and topped it off with a mighty shot against Darren O'Day. During the last at-bat, Hamilton took a mighty hack and missed, lined a foul into right-field seats and then sent an 0-2 pitch over the center-field wall.
"Amazing," Texas manager Ron Washington said. "Josh came out tonight, and he wasn't going to be denied. I know he can't do it every night, but what you saw tonight, he's capable of it."
As he spoke to the media afterward, Hamilton wore a blue T-shirt emblazoned with "BEAST MODE."
On this night, he was a beast with the bat.
"It's like anything else -- you do something good or something incredible happens, it takes a little bit for it to sink in," Hamilton said. "I think when I get away from everybody and I have some time to myself, I think it might then."
The last player to hit four home runs in a game was Carlos Delgado in 2003 for Toronto against Tampa Bay. Two of the 16 players to hit four homers in a game did it before 1900.
"History was witnessed tonight," Washington said.