Rangers' Hamels faces Astros' Fiers after fiery series opener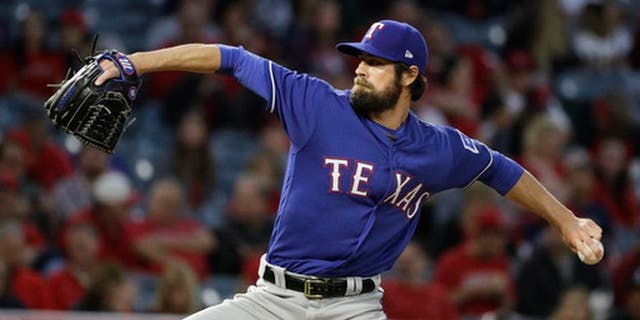 HOUSTON -- Manager A.J. Hinch on Sunday touted the pitching matchups of the Lone Star Series featuring his Houston club and the Texas Rangers, despite the fact the Astros pitched their ace, left-hander Dallas Keuchel, earlier that afternoon.
On Monday, the series lost a bit more luster when the Rangers announced that right-hander Yu Darvish had his turn in the rotation pushed back to Friday night in Seattle. Darvish had been scheduled to pitch the series finale vs. the Astros on Thursday.
Darvish threw 113 pitches in a win over the Kansas City Royals on April 23 and followed that up with a 125-pitch outing while defeating the Los Angeles Angels six days later. That combined workload made the decision to push Darvish back easier for Rangers manager Jeff Banister.
"Just give him the extra day. He likes the extra day," Banister said. "And we have an opportunity to do it. He didn't want me to do it, to be honest. He was wanting to compete. But this is for long term. It's best to give an extra day when we can."
Right-hander A.J. Griffin (left ankle gout) will come off the 10-day disabled list to start on Thursday for Texas.
Left-hander Cole Hamels (2-0, 3.03 ERA) will start the second game of the series for the Rangers (11-15) on Tuesday. Hamels is 6-3 with a 4.06 ERA in 14 career starts against Houston, including 2-0 with a 1.66 ERA over three starts last season.
Right-hander Mike Fiers (0-1, 5.12 ERA) will get the start for the Astros (17-9). Fiers is 0-1 with a 6.23 ERA in three career appearances (two starts) against the Rangers, including a start on June 6, 2016, in Arlington in which he allowed four runs over 5 1/3 innings in a 6-5 setback.
The Astros won a tense affair in the series opener on Monday, rallying with five runs in the seventh inning to claim a 6-2 victory. Between the perceived anti-Rangers pregame tweet from third baseman Alex Bregman that Texas posted in the visiting clubhouse to the bench-clearing altercation that unfolded in the sixth inning when right-hander Lance McCullers threw behind Rangers first baseman Mike Napoli, emotions ran high.
Hinch dismissed the notion that his club needed something to spark it from its malaise against Texas, which was 28-10 against the Astros over the previous two seasons. The Rangers won the American League West title in both campaigns, including their rundown of the Astros in September 2015. According to Hinch, the Astros' rally following the dustup on Monday was merely coincidental.
"We didn't really need a defining moment," Hinch said. "We've been fighting for a month. We've been playing really well for a month. We didn't need to be woken up. We didn't need to stand up and fight for ourselves. We needed to play another good game, and we did and we got another win."
Regarding the Bregman tweet, Hinch was as dismissive about both its content and the fact that the Rangers had it displayed in their clubhouse as motivation.
"I didn't know about it until late into batting practice," Hinch said. "As with most of Twitter, I just kind of roll my eyes. Obviously, we're not trying to supply any bulletin board material, but they can do with it what they want. It's fun, but at the same time, it's really unnecessary for both sides to really give a (darn) about it."