Rangers blow late lead to Blue Jays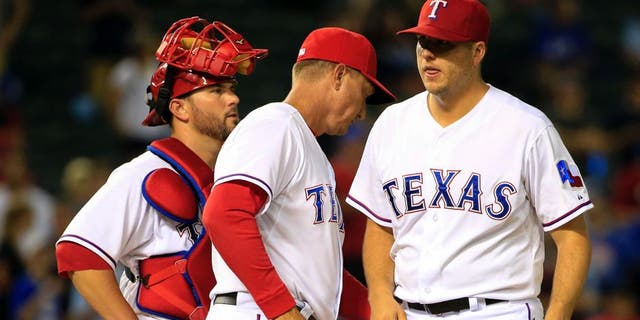 The Toronto Blue Jays are too good for the Texas Rangers to give them extra chances to beat them, but that's exactly what the Rangers did Tuesday.
A blown save by Shawn Tolleson and a costly throwing error by Adrian Beltre doomed the Rangers in a 6-5 loss to Toronto in the opener of a huge series at Globe Life Park.
The Rangers led 5-4 and had Tolleson, who was 25 for 26 in save chances this season, on the mound against Toronto. But Tolleson worked himself into trouble by walking two batters for the first time in his career.
Troy Tulowitzki made the walks hurt as he flipped a two-out single to left to tie the game at 5. The Rangers appeared to be out of the inning as Tolleson got Josh Donaldson to hit a grounder to third. But Beltre's throw to first pulled Mitch Moreland off the bag and allowed Ben Revere to score the game-winning run.
It was a painful way to start the stand and dropped the Texas lead for the No. 2 wild-card spot to ½ game.
"It stinks man," said Tolleson, who hadn't blown a save since July 11. "It's not fun to lose. It's not fun to lose like that."
Certainly not on a night in which the Rangers got a decent start from Derek Holland, who limited the hot-hitting Blue Jays to four runs in his six innings. Two scoreless innings got the one-run lead to the ninth, where the Rangers were 53-3 when leading after eight innings.
They are now 53-4.
"I felt like we had some opportunities there," Texas manager Jeff Banister said. "If we add on some runs, we give Tolly some room to work with and maybe it's a different ballgame. But it didn't happen that way tonight."
The Rangers got homers from Rougned Odor and Delino DeShields to blunt two homers from the Jays and leave the game tied at 3 after three innings.
Texas then took a 5-3 lead in the fourth as Odor doubled home Elvis Andrus and then came around to score on a sacrifice fly from Ryan Strausborger.
That would be it for the Texas offense though, as the Rangers loaded the bases on three hits in the eighth inning but failed to score. Texas also had the tying run at first with one out in the ninth, but Toronto closer Roberto Osuna got a fly ball from Prince Fielder and struck out Adrian Beltre to end the game.
"It's just one game," said DeShields. "This isn't going to hurt our confidence at all."
MORE FROM FOX SPORTS SOUTHWEST:
- PHOTOS: Cowboys Cheerleaders Auditions
- Preseason predictions for 2015 MLB season
- Ranking NFL quarterback salaries
- Oldest player on every NBA team
- College football's highest paid coaches in 2014