Rams' rookie Austin says he's not frustrated by slow start, having penalties wipe out returns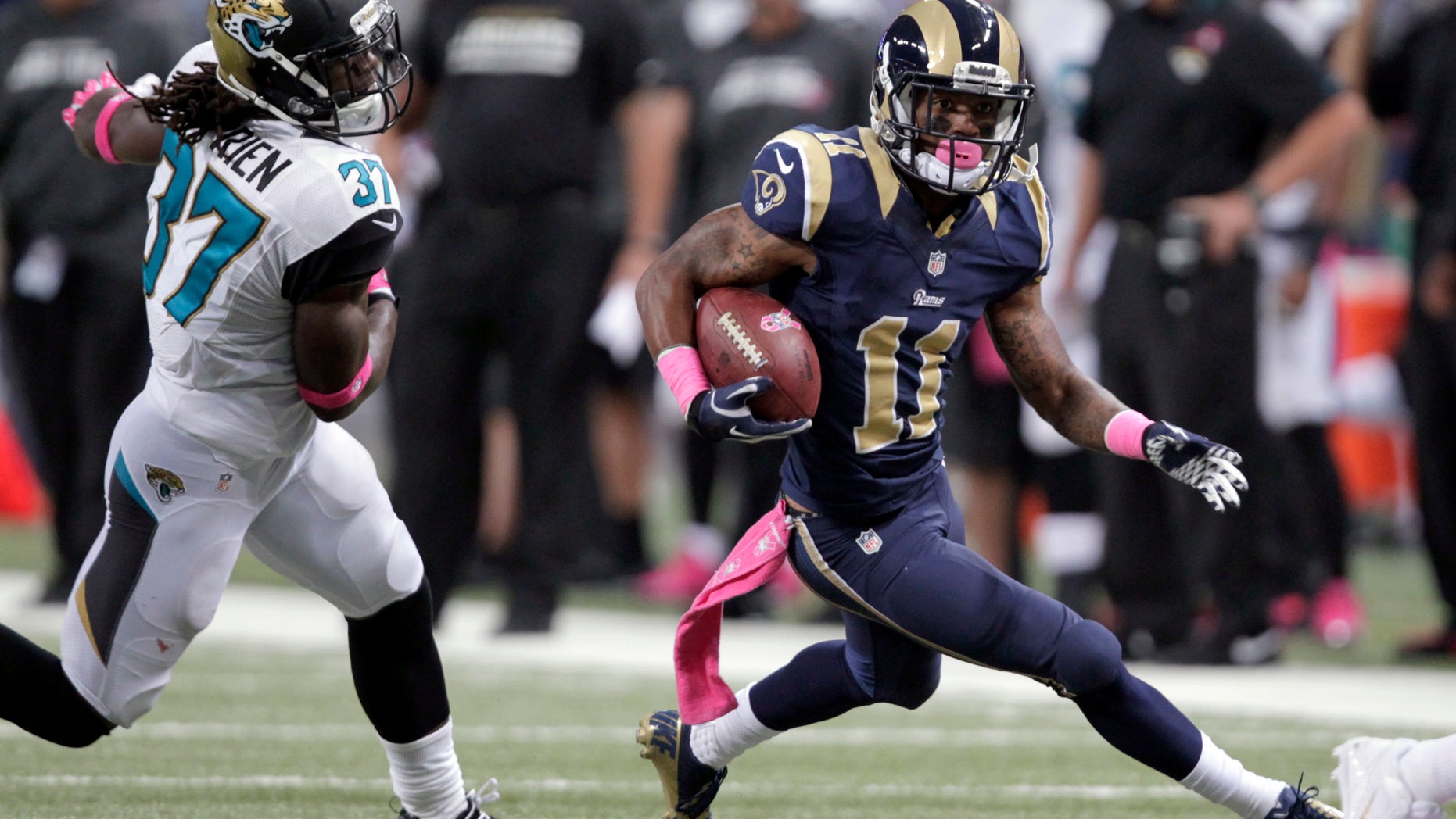 ST. LOUIS – Tavon Austin has little to show after the first five games of his rookie season with the St. Louis Rams. His best plays have been the ones that were called back.
Austin had four returns for just 15 yards in Sunday's win over Jacksonville. The elusive rookie from West Virginia had 72 yards of punt returns wiped out by his teammates' illegal blocks.
The 5-foot-8 Austin also had a 25-yard catch against the Jaguars and finished with three receptions for 32 yards. He also dropped two passes.
Apparently frustrated, Austin left the locker room after the game just as reporters were being allowed in and did not speak. After practice Wednesday, Austin insisted he was not disheartened.
"I definitely was not frustrated," Austin said. "I just got up and I had family outside. I wasn't frustrated at all. We got the win and that's all that matters."
A jack-of-all-trades at West Virginia, Austin had 114 catches for 1,289 yards with 12 touchdowns last season with the Mountaineers. He added 643 yards rushing along with five TDs. Austin also handled the kickoff and punt return duties.
He was especially good as a receiver in college, gaining yards after the catch when the Mountaineers got him the ball in space. Space is harder to find in the NFL.
With St. Louis, Austin has 23 receptions and leads all rookies in that category, one catch ahead of DeAndre Hopkins, who will be on the opposite sideline Sunday in Houston. However, he has just 156 yards receiving, 6.8 per catch.
"We're hoping to get him an opportunity," Rams coach Jeff Fisher said about getting more deep balls to Austin.
Returning punts, Austin officially has 57 yards on 17 returns this season, for a 3.4-yard average and a long of 14 yards.
Fisher pointed out that without the penalties Austin would have 257 yards in punt returns this season with a long of 84 yards and a touchdown. He would be averaging nearly 10 yards a return. The 84 yards came on the nullified punt return for a touchdown came against Dallas.
Fisher gave the rookie a game ball Monday for the 91 punt return yards he would have had against the Jaguars and for the yards subtracted the rest of the year.
"That's how the game goes," Austin said. "You've got to keep on pushing. I believe in my teammates. Hopefully, it will get better next time."
The Rams traded up eight spots in April's draft to get the explosive playmaker for quarterback Sam Bradford. Through five games, Bradford said he likes what he has seen from Austin as a receiver.
"I think he's making progress," Bradford said. "I think if you ask him, he's probably frustrated. I know that his role here is probably a little bit different than what we pictured and what he was used to at West Virginia. I've been impressed with him. I think that he continues to try to get better each week on the practice field. I think as long as he keeps at it, eventually he will grow into that role where he probably expected to be."
NOTES: Rookie RB Zac Stacy (chest) did not practice Wednesday. He started for the first time against Jacksonville. He ended with 78 yards on 14 carries. ... DE William Hayes (knee) and DT Matt Conrath (concussion) were limited in practice. RT Rodger Safford (knee) and CB Cortland Finnegan (thigh) did not practice.