Rams head coach McVay on Aaron Donald's absence at OTAs: 'We expected him not to be here today'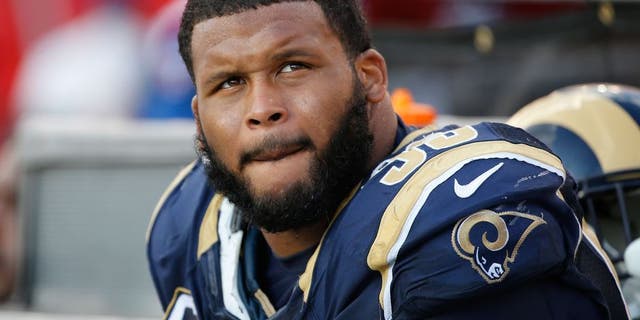 There was a Pro Bowl sized hole in the Los Angeles Rams defense on Monday as they convened for their first round of OTAs.
Three-time Pro Bowl defensive tackle Aaron Donald was absent as his team took the field. It's an absence head coach Sean McVay isn't too worried about though as he heads into his first season:
Yeah, everything is good with Aaron," McVay said. "We expected him not to be here today, but what we have seen from Aaron this offseason in terms of the effort, the way that hes competed, been very pleased with him. It is voluntary right now, so whenever we get him back well feel good about that.
It's been reported that the former University of Pittsburgh man is shying away from team activities until he signs a new contract with the team, but as of now McVay isn't confirming or denying anything aside from it not being injury related.
Theres some things going on. Theres really nothing personal or anything like that. Those discussions are kind of internal right now, but we expected him not to be here. But what weve seen from him has been very encouraging," McVay said.
Selected to the Pro Bowl in each of his three seasons since being selected No. 13 overall in the 2014, Donald was an NFL First-team All-Pro the last two seasons and NFL Defensive Rookie of the Year in 2014.
Last season, Donald was one of the bright spots of a rough year for the Rams in their first year in LA. He racked up eight sacks and 36 tackles playing in all 16 of the Rams' games.
Donald is entering the final year of a four-year deal with the LA Rams. The team has already picked up his fifth-year team option for 2018.