Raisman adds another gold to U.S. total with floor title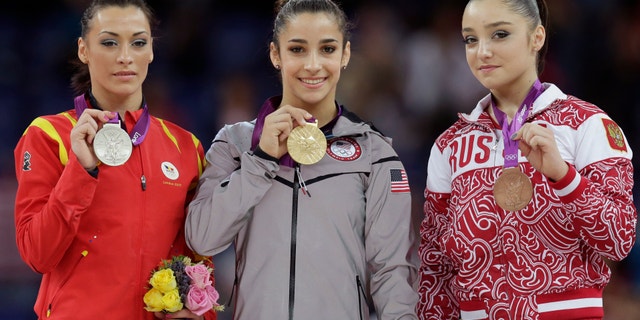 London, England – Aly Raisman closed out an outstanding performance by the U.S. women's gymnastics team at the London Games by grabbing gold in the final of the floor exercise on Tuesday.
After edging Romania's Catalina Ponor in a tiebreak for a bronze medal on the balance beam earlier in the day, Raisman posted the top difficulty and execution score with a brilliant floor routine, giving her a total mark of 15.600.
It was a top qualifying score on the apparatus that helped Raisman qualify for the individual all-around, won by teammate Gabby Douglas. Raisman finished fourth, losing out on a tiebreaker to Russia's Aliya Mustafina.
"Today has been a dream come true. I'm so glad I got the medal I wanted," said Raisman.
Ponor won silver with a 15.200, unable to close a 0.30 gap on Raisman's 6.500 difficulty mark. Mustafina, who won gold in Monday's uneven bars final, matched Italy's Vanessa Ferrari with a score of 14.900, but won the tiebreak with a 9.000 score on execution to Ferrari's 8.700.
In what will be her final Olympics, Ponor claimed her fifth medal in the Summer Games.
"I will say it again, I want everyone to know, I will quit without regrets. I have worked every second for my team, I have worked every second for myself, I have worked every second for everybody. I have already been an Olympic champion, I will quit gymnastics with my chin up," said Ponor, who added she would like to get into coaching.
Raisman, meanwhile, topped a field littered with former champions. Ponor won gold at the 2004 Athens Olympics, Sandra Raluca Izbasa of Romania was defending Olympic champion and Russia's Kseniia Afanaseva took gold at the 2011 World Championship.
It marked the first time that a male or female U.S. gymnast won Olympic gold in the floor exercise.
American Jordyn Wieber, who had the fourth-best qualifying score in the all- around but did not advance to the event due to rules that state a country can send only two gymnasts to the event, finished seventh. The 2011 individual all-around champion had qualified sixth.
Wieber won't leave London empty-handed after Team USA won gold in the team competition at the Olympics for the first time since 1996.