Raise your hand: Which drivers are ready to grab a victory?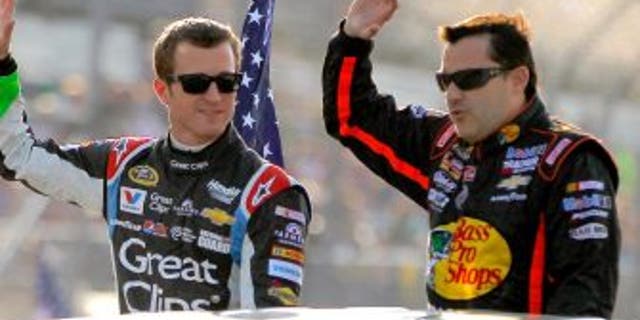 With 12 of 36 races in the books in the 2014 NASCAR Sprint Cup Series season, so far 10 different drivers have won races. And if you look at the entry list for Sunday's FedEx 400 benefitting Autism Speaks at Dover International Speedway, there are more than a dozen drivers who have won Cup races in the past, but haven't won yet this season.
On top of that, there are plenty of promising rookies and young veterans looking to win their first Sprint Cup race.
Dover marks the mid-point of the 26-race Sprint Cup regular season, and while it's highly unlikely that there will be 10 more new winners between now and the 26th race at Richmond, clearly some drivers will step up.
With NASCAR's newly expanded Chase for the Sprint Cup format allowing for up to 16 drivers to qualify for the playoff round, there are six positions still open. Here are six drivers who could very well fill those slots:
TONY STEWART -- This selection is admittedly paradoxical. In the last five races, Stewart's only top-10 finish was a ninth place at Darlington and he and crew chief Chad Johnston are struggling to find a feel that's both comfortable and fast. On the other hand, Stewart has 48 career victories and in 2011, he had only three top fives in the regular season before winning five of 10 Chase races. No one can get hotter, faster than Stewart. And besides, two of his Stewart-Haas Racing teammates have won already and SHR uses Hendrick Motorsports equipment. And, oh yeah, Stewart is the defending race winner at Dover, a track where he has three career victories.
MATT KENSETH -- This one is as close to a sure thing as there is in racing. Kenseth won seven races last year, has top-five finishes in three of the last five races this season and has led laps in nine of 12 races. With Kenseth, the question isn't if he'll win a race, but how soon and how many.
KYLE LARSON -- It's always a gamble to go with a rookie driver, but Larson is an uncommon talent. He already has one pole and one second-place finish so far this season and there's no question that the Chip Ganassi Racing with Felix Sabates squad has improved dramatically this season.
KASEY KAHNE -- All three of Kahne's Hendrick Motorsports teammates have won races this year, which means one of two things: Either Kahne is having a miserable season, or he's overdue for a victory. Probably both are true in Kahne's case, but there's no question things are looking up for him. In his first six races, Kahne's average finish was 19.33; in the last six, it's 11.33.
BRIAN VICKERS -- Quietly, Vickers has put together an excellent first full season with Michael Waltrip Racing. Ranked eighth in points heading into Dover, Vickers has finished worse than 16th just once in the last 10 races. The fact that he's having a much better season than teammate Clint Bowyer speaks volumes.
GREG BIFFLE -- It certainly hasn't been a great season for Biffle, who is in the final year of his contract with Roush Fenway Racing. Still, he's a threat to win, especially at Dover, where he already has two career victories.