Raiders QB Christian Ponder unfazed by boos in Minnesota return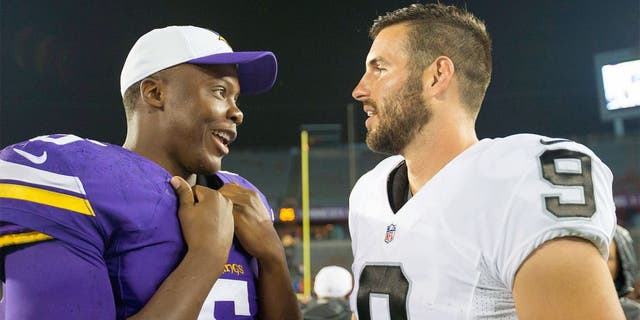 Christian Ponder's nerves cleared around the same time as the skies over TCF Bank Stadium.
He still wasn't brave enough to pull off the move he'd considered all week -- a bow in front of his old home fans.
"It kind of happened late when I was running onto the field already, so I probably wimped out," Ponder told ESPN's Ben Goessling.
The former Vikings responded to the boos with his play instead. Ponder, now a backup on the Raiders, showcased the kind of skills that the Vikings liked when they selected him at No. 12 in 2011.
Ponder threw well from the pocket and exceptionally well on the run. He completed seven passes for 69 yards -- including one long bomb to Seth Roberts that went for almost 40.
His coordinator in Oakland is Bill Musgrave, another former Viking. Ponder appears back in his comfort zone, despite the valiant efforts of rowdy Vikings fans.
"I was prepared for it (the boos), so it didn't really affect me," he said. "It made it kind of fun coming back. It was good to see a lot of the guys, a lot of the staff and a lot of players and reconnect with them. But you know it was expected, so I got a little chuckle out of it."
(h/t ESPN)