Raiders' Derek Carr: 'We're pretty upset right now'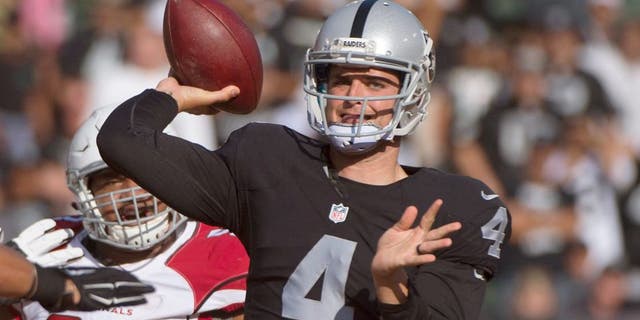 NEWYou can now listen to Fox News articles!
Cariel Brooks took a Derek Carr pass in for a touchdown on Saturday night.
The problem? Brooks is a Cardinals cornerback, not a Raider.
Still, his 81-yard interception return marked the only time Carr could find the end zone for either team. In five other red zone trips, the Silver and Black could produce only field goals.
"As an offense, we're pretty upset right now," the quarterback told Scott Bair of CSN Bay Area. "We wanted to score a lot of points, and we felt like we left a lot out there. Honestly, we did."
Carr's assessment is spot-on. He threw that back-breaking interception to end the first half. Five other red zone drives looked promising, but ended in Sebastian Janikowski field goals.
Janikowski is still one of the NFL's best kickers. But Carr would rather his accurate leg be used for extra-point tries after his offense found the end zone.
That didn't happen against Arizona. The Silver and Black's leader knows he has to do better.
I wouldn't say the offense took a step back, because (at times) we were very explosive," Carr said. "There were some good things, but there were some very bad things that we have to correct."