Raiders' Del Rio juggling health and experience against Cardinals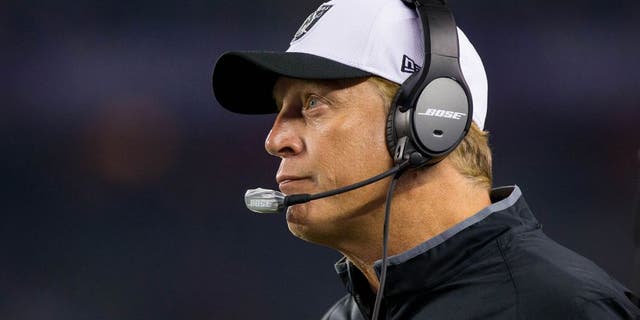 Jack Del Rio knows his starters are supposed to play significant minutes in Sunday night's dress rehearsal game.
That's how the third week of preseason has always worked. Del Rio isn't so sure he'll play by the rules, though.
"I think you do have to take pause and make sure you think about it," Del Rio told ESPN's Bill Williamson. "We'll do that. We'll see what is appropriate."
It might be prudent to sit starters a little earlier against the Arizona Cardinals. Del Rio's roster isn't exactly the deepest; one big injury and all that offseason momentum vanishes.
He also has to weigh his team's youth factor. Young stars like Derek Carr need valuable time to learn the new offense. Rookies like Amari Cooper and Mario Edwards need that same time to adjust to NFL speed.
Said Del Rio: "The conditioning aspect, not only physically but mentally, it's important, so it's an important part, but you have to weigh that against having your best people healthy and ready to go for the year."
(h/t ESPN)