Rafael Nadal Wins First Title Of 2014 At Qatar Open, Beats Gael Monflis In Three Sets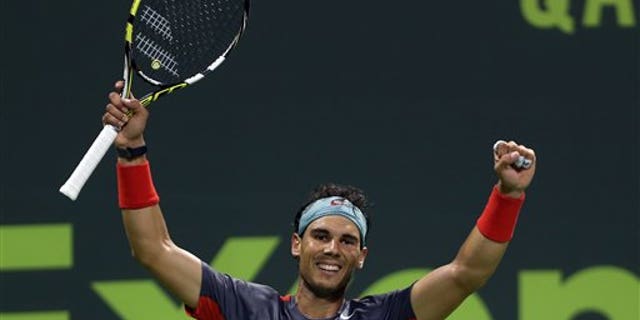 DOHA, Qatar (AP) – Rafael Nadal opened his 2014 campaign by winning his first title of the year in defeating Gael Monfils 6-1, 6-7 (5), 6-2 at the Qatar Open on Saturday.
Nadal showed why he's the top player in the world all week long. Although he wasn't in top form in this first event of the season, he battled to win his 61st career title, one shy of Guillermo Vilas' total, seventh on the all-time Open era list.
"I think I played my best match of the season — of the tournament — today," Nadal said after the exciting, two-hour final. "I was happy with how I played."
Of the five matches Nadal played this week he was taken the three-set distance three times: By Tobias Kamke in the second round, Peter Gojowczyk in the quarterfinals, and then by Monfils.
"The important thing is that I had a chance to survive after very tough matches this week," he said. "And it was a tougher match against a tougher opponent in the final.
"It's very exciting to start the year with a title."
Nadal, who reached the championship match in Doha in 2010, has been in the final of 15 of his last 18 tournaments. Last year he won a career-high 10 titles.
Nadal holds a 9-2 record against Monfils. The Frenchman previously won both of their meetings in Doha, in the 2009 quarterfinals and 2012 semifinals.
The 31st-ranked Monfils has been in three Doha finals, but will again go home without the trophy. He's appeared in 20 career finals, but won only four.
"Rafa is strong, hitting hard the ball," Monfils said. "It's always tough to play against him, and at the end he was a bit better than me today."
Nadal dominated the first set, taking it in just 23 minutes. Monfils managed to hold serve only in the sixth game.
"If I play like I did in the first set I'll be very competitive in Melbourne," Nadal said of the upcoming Australian Open.
In the second set it was all about Monfils to start, as the Frenchman could do no wrong en route to a 3-0 lead.
Although Nadal recouped the service break in the seventh game when Monfils netted a backhand, he couldn't bypass the Frenchman in the tiebreaker.
Nadal saved thee Monfils set points at 6-3 in the tiebreaker, but on the fourth Monfils nailed the set with an ace.
In the third set, Nadal broke Monfils in the fourth game when the Frenchman shipped two forehands long from 30-30.
Leading 3-1, Nadal saved four break points on his serve in the fifth game to take a 4-1 lead.
Nadal broke serve again on a second match point in the final game when Monfils sailed a forehand long.
Follow us on twitter.com/foxnewslatino
Like us at facebook.com/foxnewslatino