Rafael Nadal drops out of top 5 for first time in 10 years after loss in Madrid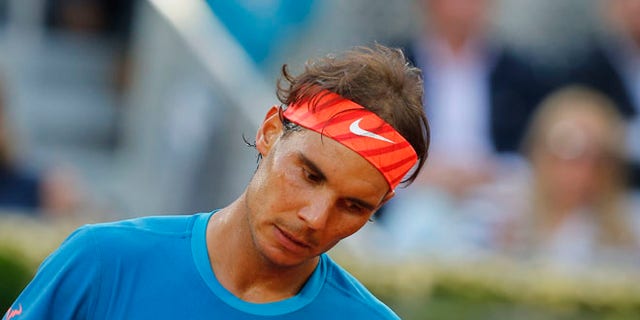 PARIS (AP) – Rafael Nadal dropped out of the top five in the ATP rankings for the first time in 10 years on Monday after failing to defend his title at the Madrid Masters.
Nadal, a two-time defending champion in the Spanish capital, lost to Andy Murray on clay for the first time in Sunday's final.
It was Nadal's fourth loss on his favorite surface this year, only two weeks before starting his quest for a 10th French Open title.
"I haven't been able to play two weeks in a row, well, in the whole year," Nadal said.
The 28-year-old Nadal dropped to seventh in the rankings, meaning he could face highest-ranked opponents as early as the quarterfinals at Roland Garros. Novak Djokovic is still the top-tanked player, followed by Roger Federer and Murray.
Nadal was ranked seventh on May 2, 2005, the last time he was out of the top five.
"Whatever will happen, will be," Nadal said. "It's something that we have to realize, all of us, that what's happening during these last years, it's very complicated to be 10 or 11 years without leaving the top four."
Nadal is playing in Rome this week, where has been seeded No. 4 and placed in the same half of the draw as Federer.
Nadal is struggling to get back to his best after a wrist injury and an appendectomy last season. His 6-3, 6-2 loss to Murray in Madrid marked the first time he lost four matches on clay during the same season since 2003.
"Let's hope these days don't repeat themselves very often," Nadal said.