Rafael Nadal chosen to be Spain's flag-bearer at Olympics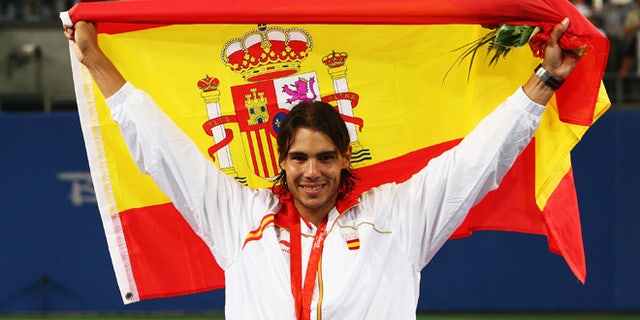 NEWYou can now listen to Fox News articles!
MADRID (AP) – Rafael Nadal will be Spain's flag-bearer at the Rio de Janeiro Olympics.
The announcement was made Wednesday at an event in Madrid marking the 100-day countdown to the Aug. 5 opening ceremony at Rio's Maracana Stadium.
It's the second time Nadal, winner of 14 Grand Slam titles, has been selected as a flag-bearer. The former top-ranked player was given the honor for the 2012 London Olympics but missed the games because of an injury and NBA star Pau Gasol carried the Spanish flag instead.
Nadal won the singles gold medal in 2008 at the Beijing Games and also played in the 2004 Athens Olympics.
"Spanish sport was in debt to Nadal," Spanish Olympic Committee president Alejandro Blanco said. "He gave us a lot more than results."
The announcement came as Nadal defends himself against unproven doping allegations. This week, he filed a lawsuit against a former French minister who accused him of doping and asked the International Tennis Federation to reveal all of his drug-test results to show that he is clean.
Blanco said recently that Nadal deserved to be the flag-bearer in Rio in part because of what he had to go through following the doping allegations made in France.
Roselyne Bachelot, former minister for health and sport, said on French television that Nadal's seven-month injury hiatus in 2012 was "probably due to a positive doping test."
Her remarks outraged Spaniards and prompted Nadal to take legal action to defend his "image as an athlete" and to keep "any public figure from making insulting or false allegations against an athlete without any evidence or foundation."
Nadal also wrote a letter to ITF President David Haggerty asking for all of his drug-test results and blood profile records to be made public. The former No. 1 also encouraged the federation to "start filing lawsuits" if there are wrongful accusations made against players.
Nadal struggled on the court last season and won only three tournaments, but got off to a much better start in 2016, winning the Monte Carlo Masters and the Barcelona Open. Nadal last won a Grand Slam in 2014 at the French Open.