Rafael Dos Anjos on Conor McGregor: 'Finally, I have an easy fight'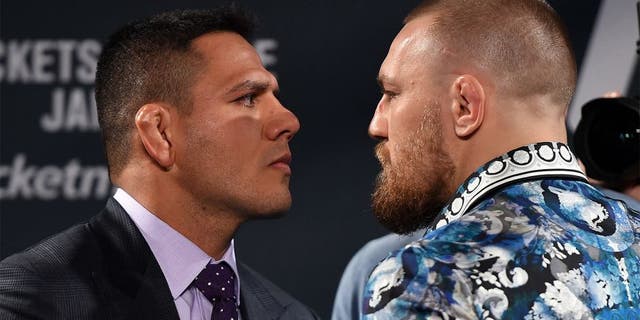 Rafael Dos Anjos doesn't usually have many good things to say about his next opponent, Conor McGregor. After all, the Irishman has already begun his trash talk against the lightweight champion, including some very ugly stuff.
The Brazilian doesn't like the featherweight champ, but has to admit he's a good fighter. Good, not great.
"Yeah, man, [McGregor is] a good fighter, I'm not saying he's not a good fighter," Dos Anjos told The MMA Hour this week.
"He's a good fighter. I just think I'm on a different level. He has a good counter, he has a good straight left, so I need to watch it. But it's not anything that I haven't seen before. I fought Nate Diaz. Nate Diaz is a better boxer than him. Longer, very, very difficult to fight against Nate Diaz, a very tough opponent. Cerrone, he's a very good Muay Thai guy, very long. Man, I've fought better guys before, you know?"
Dos Anjos has put together an impressive streak of wins against the likes of former champion Benson Henderson, Anthony Pettis, Donald Cerrone and Nate Diaz. In his mind, opponents like those are much bigger threats than McGregor, who is coming up in weight for their March 5 headlining bout.
"Man, Ben Henderson, Donald Cerrone ... these guys are a different level man," he continued.
"They are stronger, they are faster, they are taller than this guy. I didn't have a chance to say it to Dana White at the press conference because that guy he didn't let me speak. But I want to thank Dana White and Lorenzo for finally giving me an easy fight. Finally, I always have tough fights against beasts. And finally, I have an easy fight."
Dos Anjos thinks that he matches up well everywhere against McGregor. If they stay on the feet and strike or if he chooses to try and take the new champ down, the Kings MMA member is confident that he can dominate.
"I think I can beat this guy anywhere," he insisted.
"I think if I fight a jiu-jitsu match with him, I'll beat him. If I fight a karate match with him, I'll beat him. If I fight a K-1 rules with him, I'd beat him. I think I can beat him anywhere. I'm going to do my job, I'm going to do whatever I've been doing with my fights. I'm going to break his mind standing. He's going to feel very bad after getting hit hard several times, and then maybe, if I feel I want, I will take him down and smash him a little bit on the ground."