Rafa Marquez Helps Red Bulls Win, Giovani dos Santos Sets Up 2 Goals, and Chicharito Fails to Score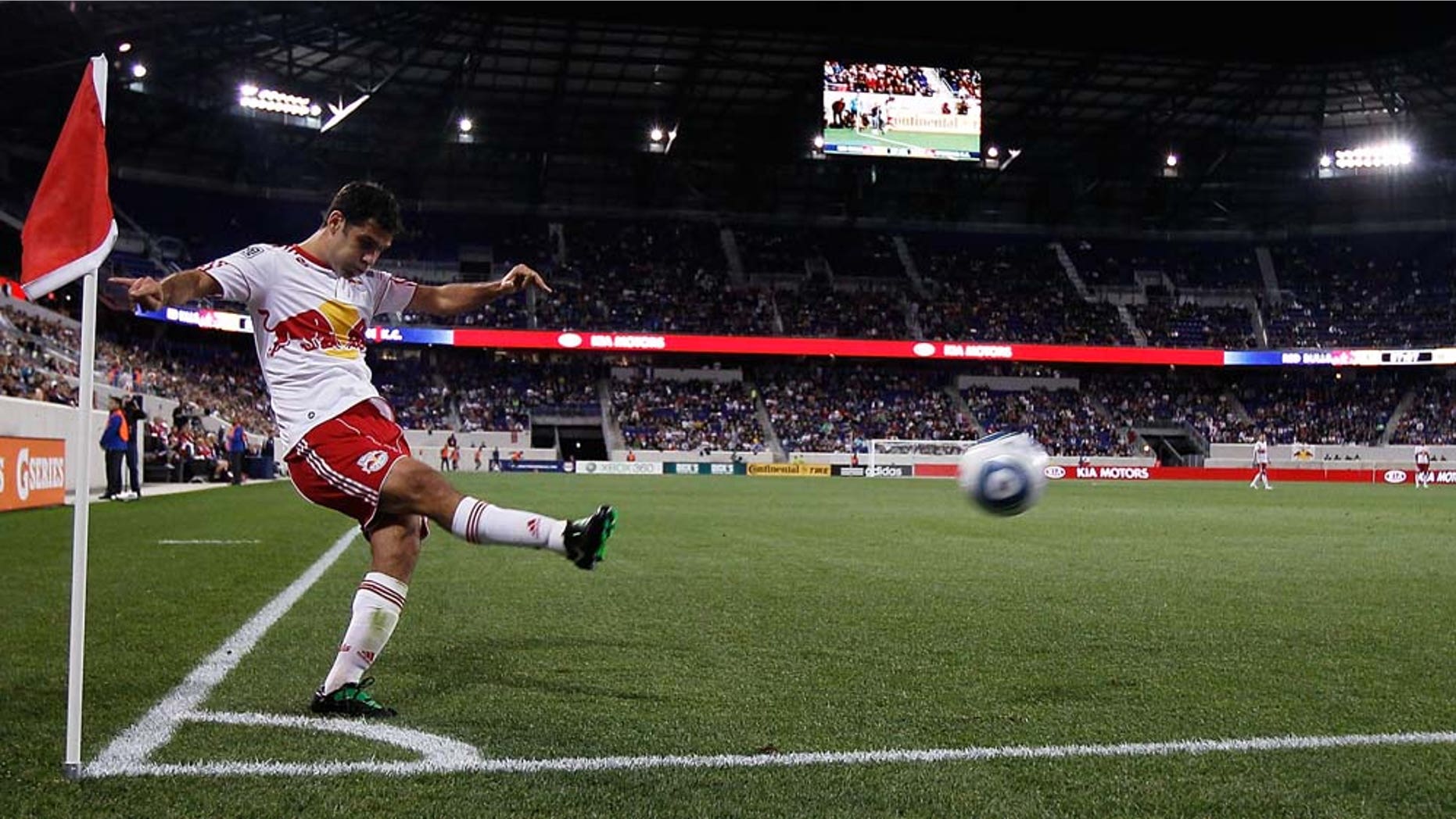 A weekly recap of how Mexican internationals fared over the weekend.
Rafa Márquez
The best soccer players quickly learn not to let a mistake bother them.
Márquez, the Mexican National Team captain, did exactly that for the New York Red Bulls on Saturday.
Only eight minutes after having his penalty kick saved, some quick-thinking by Márquez set up the lone score in the Red Bulls' 1-0 win over Sporting Kansas City on Saturday night.
Márquez was in position to give the hosts the lead in the 14th minute after KC midfielder Stephane Auvray fouled Dwayne De Rosario in the penalty area. But goalkeeper Jimmy Nielsen saved Márquez's penalty attempt, diving to his left.
"I took a few steps toward the ball and the goalkeeper usually moves," Márquez said. "I was waiting for that to happen, but I put it as far into the corner as possible. The the goalkeeper didn't move and actually made a good save."
As it turned out, Márquez had an opportunity to redeem himself eight minutes later.
Kansas City's C.J. Sapong fouled midfielder Dane Richards at midfield. Márquez took a quick free kick that went to Thierry Henry, who directed the ball to an onrushing De Rosario on the right flank. De Rosario slipped in the area, but he got off a pass to Luke Rodgers, who fired home an eight-yard shot.
"I saw Thierry and immediately I saw his movement," Márquez said. "So I just got to the ball and touched it as soon as possible. It was just a matter of being aware of what was happening."
The Red Bulls (4-1-2, 14 points) regained the Eastern Conference lead. Márquez directed a defense that recorded its third consecutive shutout and that hasn't given up a goal in 292 minutes.
Dos Santos helped set up both goals for Racing Santander in the first half of its 2-0 win over Mallorca in Spain's La Liga on Sunday. Dos Santos found Markus Rosenberg, whose point-blank shot lifted Racing into a 1-0 lead in the 12th minute.
He was fouled by Joao Víctor Severino in the 41st minute, giving Racing a free kick. Kennedy Bakircioglu converted the kick. Racing plays at Hercules on Saturday.
Javier Hernández
It was a rare week for Hernández, as he was blanked in both of Manchester United's matches.
Chicharito failed to score in the 2-0 win over Schalke (Germany) in the first leg of the UEFA Champions League semifinals on Tuesday and again in United's 1-0 loss to Arsenal in English Premier League action on Sunday.
Hernandez did play a role on Wednesday. He had thought he scored early in the second half, but the Mexican international was called offside. However, that near miss inspired United.
"That was what broke the camel's back," United manager Sir Alex Ferguson said. "It told the players they could beat this goalkeeper."
Ryan Giggs (67th minute) and Wayne Rooney (69th minute) tallied goals to give the visitors a two-goal advantage.
Hernández and ManU face yet another busy week with the second leg vs. Schalke at Old Trafford on Wednesday and a vital EPL encounter with Chelsea on Sunday.
Carlos Vela
On loan from Arsenal, Vela helped 10-man West Bromwich Albion topple Aston Villa for the first time in 26 years in a 2-1 comeback win on Saturday. He had two decent goal-scoring opportunities, chipping the ball over goalkeeper Brad Friedel and the crossbar midway through the opening half and a free kick in the 43rd minute that just went over the crossbar.
Albion appealed for a penalty kick when Vela collided with Villa defender Luke Young in the 55th minute, but referee Phil Dowd said to play on. Vela was replaced by Marc-Antoine Fortune in the 75th minute. WBA, which is eight points clear of the relegation zone with three matches remaining, visits Wolverhampton Saturday.
Andrés Guardado
Guardado was the most effective attacking player for Deportivo Coruña in its 1-0 La Liga defeat to Atlético Madrid on Sunday. So imagine the crowd's reaction when coach Miguel Angel Lotina took him out for Ze Castro late in the 75th minute.
Lotina was criticized, but the coach explained why – Guardado had taken a knock and was injured.
"When he fell down he told us that he couldn´t continue, but the public doesn't know this fact," Lotina told reporters. "I can't explain the things to the 20,000 fans at the stands."
Deportivo plays at Sporting Gijon on Saturday.
Carlos Salcido
The left fullback played the full 90 minutes and helped Fulham post a clean sheet – a 3-0 victory over Sunderland at the Stadium of Light in EPL action on Saturday. Ninth-place Fulham plays Liverpool on Monday, May 9.
Jonathan dos Santos
He played the entire 90 minutes for Barcelona B in a 2-1 defeat to Valladolid in the Spanish Second Division on Friday. The hosts won on an injury-time goal by Javi Guerra. Barca next plays at Albacete on Saturday.
Francisco Javier Rodríguez
Maza came on as a substitute in the 72nd minute for PSV Eindhoven in its 2-1 win over Vitesse Arnhem in the Dutch First Division on Saturday. Third-place PSV (68 points), which trails leader Twente Enschede (71), has next week off and plays its season finale at FC Groningen on Sunday, May 15.
Héctor Moreno
After incurring a red card late in Alkmaar Zaanstreek's 2-1 loss last week, Moreno did not play for AZ in its 5-1 triumph over De Graafschap on Sunday. After a week off, AZ visits Utrecht in its season finale on Sunday, May 15.
Pablo Barrera
Barrera did not dress for West Ham United in its 2-1 EPL loss at Manchester city on Sunday. West Ham hosts Blackburn on Saturday.
Mariano Trujillo and Francisco Mendoza
Trujillo, the goal-scoring hero of Chivas USA's 2-1 win over San Jose last week, came off the bench to replace Ben Zemanski in the 70th minute of the 3-0 win over the New England Revolution on Saturday. Mendoza subbed for Jorge Flores in the 78th minute.
Omar Bravo
The Sporting Kansas City striker is still a few weeks away from returning from his sports hernia.
Coaches
Carlos de los Cobos
De los Cobos did not help his chances of staying with the Chicago Fire (1-3-3). The Fire lost the lead before settling for a 1-1 MLS draw with the Colorado Rapids on Saturday. The Fire failed to reach the playoffs de los Cobos' first season in 2010 and has won only once this season.
Javier Aguirre
Aguirre, who coached El Tri at last year's World Cup, guided Real Zaragoza (10-15-9, 39) to 3-2 upset over Real Madrid at Santiago Bernabeu on Saturday.
Aguirre said his side was not safe from the relegation zone in La Liga. Real, which is two points clear of the relegation zone, is in 15th place out of 20 teams.
"I appreciate the victory for my players," Aguirre told Eurosport. "Obviously, Madrid put us under pressure at the end but that was to be expected. It is a positive result. We have taken a substantial step forward but not a definitive one. Mathematically, we are not yet safe."
Michael Lewis, who has covered international soccer for three decades, is a frequent contributor to Fox News Latino. He can be reached at SoccerWriter516@aol.com.
Follow us on twitter.com/foxnewslatino
Like us at facebook.com/foxnewslatino