Radioactive from Michigan: '[Expletive] it, man. I'm just trying to help, pal'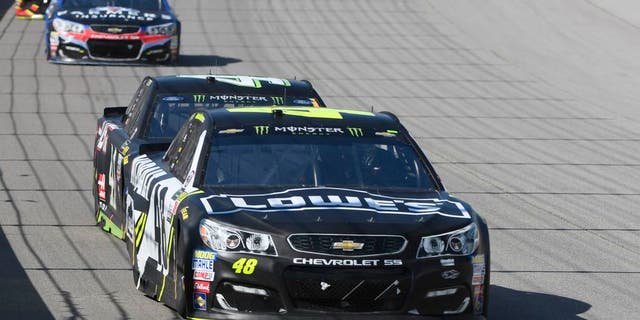 NEWYou can now listen to Fox News articles!
Kyle Larson scored his second win of the season by getting the advantage on late restarts to take the checkered flag in the FireKeepers Casino 400 at Michigan International Speedway.
While Larson was battling up front with Martin Truex Jr. and Kyle Busch, a lot was happening back in the field.
Ryan Newman and Bubba Wallace battled back and forth in the middle of the pack and got on each others nerves and Wallace tried to keep learning in his second Cup Series start.
Joey Logano brought his No. 22 Team Penske Ford home in third-place but dealt with a detached helmet hose, which made it a much hotter ride.
When Kyle Busch slid up in front of Clint Bowyer, it received quite the reaction from Stewart-Haas Racing owner, Tony Stewart.
Yeah, Brett (Griffin), its a good thing Im not driving that thing, itd be the last time hed do that today. Next thing hed see is white., Stewart said. I would have pile drove him.
In the midst of a cowboy hat and other debris flying on the racetrack, tempers heated between Jimmie Johnson and crew chief, Chad Knaus.
After Knaus told Johnson to try entering the corner at a shallower angle, Johnson responded with a laugh.
[Expletive] it, man. Im just trying to help, pal. Knaus fired back.
Dude, I just wish you would believe me like Id try those things, Johnson said. I know youre trying to help but I cant hold the [expletive] whee down there if Im loose in."
Martin Truex Jr. won both stages of the race but Larson was charging back up through the field in the closing laps.
Some intensity from a late debris caution, set up a wild finish. Check out how it all played out on the latest edition of Radioactive.