23rd horse dies at Santa Anita track since December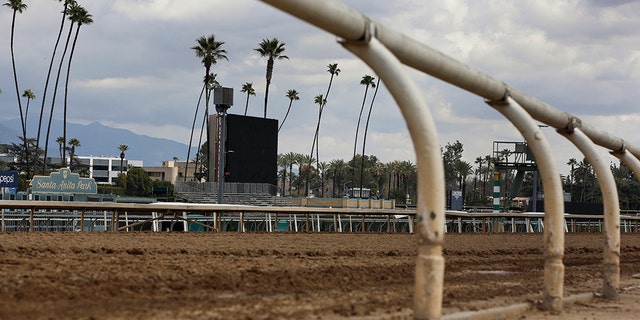 ARCADIA, Calif. – A two-horse spill in the $100,000 San Simeon Stakes at Santa Anita has led to the 23rd equine fatality at the Southern California track.
Arms Runner injured his right front leg and fell in the Grade 3 race on turf Sunday, two days after Santa Anita reopened to racing after being closed for nearly a month.
"While this incident happened during competition on a track that has been deemed by independent experts to be safe," Santa Anita said in a statement obtained by The Los Angeles Times, "we are working closely with the [CHRB] to understand if there was anything additional that we could have done to prevent [Sunday's] tragedy."
GRAPHIC VIDEO WARNING
That caused a trailing horse, La Sardane, to fall. The 5-year-old mare got back on her feet and didn't appear to sustain any injuries. Jockey Ruben Fuentes didn't ride the rest of the day.
Arms Runner was tended to by track veterinarians and vanned off. Track stewards said the horse was euthanized.
The accident occurred as the horses crossed the dirt surface during the transition from the hillside turf course to the main turf course.
Since the winter meet began, seven of the deaths occurred during races on the dirt oval, five on the turf track, and nine during training on dirt.
The highest-profile horse to be euthanized was Battle of Midway, winner of the 2017 Breeders' Cup Dirt Mile. The 5-year-old bay also finished third in the 2017 Kentucky Derby for Hall of Fame trainer Jerry Hollendorfer. The horse suffered injuries during a workout on Feb. 23.
Lets Light the Way, a 4-year-old filly, was euthanized after shattering the sesamoid, a bone that provides anchor points for the two branches of the suspensory ligament, in her front right leg during training on Tuesday. Hall of Fame trainer Ron McAnally purchased the filly for $15,000.
The Associated Press contributed to this report