Quick glance at World Series matchup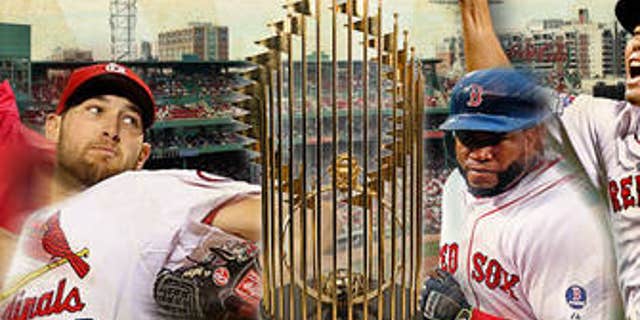 With Saturday night's come-from-behind win against the Detroit Tigers, the Boston Red Sox sewed up their place alongside the St. Louis Cardinals in the World Series. Which team has the edge in MLB's championship round? We break down the key categories.
ROTATION In his final start of the regular season, Cardinals rookie Michael Wacha tossed 8 2/3 no-hit innings before losing the bid on what could have been the final batter of the night, and he's been pitching like a bona-fide ace ever since, going 3-0 with a 0.43 ERA, .114 batting average against and 22-to-4 strikeout-to-walk ratio in 21 playoff innings pitched.
But the best part about Wacha's emergence for St. Louis is that they still have their actual ace, Adam Wainwright, pitching as well as ever, too. The 19-game winner Wainwright has posted a 1.57 ERA and 20-to-1 strikeout-to-walk ratio in 23 innings on the mound this postseason, helping to anchor a starting rotation that has been excellent all around, combining for a 2.57 ERA in 11 starts.
The Red Sox starting rotation, however, has seen its share of struggles this postseason, and could prove to be its bane in the World Series. The Red Sox starters have a combined 4.29 ERA so far this postseason, including a 4.78 mark in an ALCS despite the 6 2/3 shutout innings from John Lackey in Game 3 in Detroit.
Jon Lester has been solid for Boston this postseason, but the Red Sox lack a true shut-down option (of which St. Louis has two). And if the Cardinals bats can get to Lester or Clay Buchholz early in the series, I'm not sure they want the fate of their season coming down to Lackey or -- gulp -- Jake Peavy.
EDGE: CARDINALS
BULLPEN Both teams saw dominant performances out of their bullpens in their respective league championship series, with the 1.42 ERA posted by the St. Louis relievers representing the high mark between them. But the Red Sox were virtually flawless, allowing just one run in 21 relief innings against the Tigers.
Boston was paced by ALCS MVP Koji Uehara, who had three saves against Detroit and, save for one pesky homer by Jose Lobaton in the ALDS, has been in top form this entire postseason. Brandon Workman and Craig Breslow have also been key pieces for a crew that has been tough to hit and even tougher to score on.
The Cardinals arms, meanwhile, allowed just 10 hits in 19 innings out of the 'pen in the NLCS, led by Randy Choate, Carlos Martinez and Trevor Rosenthal, who allowed just three hits in a combined 11 2/3 innings. But St. Louis has been a little prone to the long ball, with two of their three earned runs coming via the solo homer -- a troubling, but not necessarily alarming trend.
That said, neither bullpen has been bad and both have been above-average. So the best bet for both offenses is to get to the starters -- a task that's easier said than done. But if there's one bullpen you don't want to have to rely on beating, it's Boston's.
EDGE: RED SOX
LINEUP For as well as the Red Sox and Cardinals pitched in the League Championship Series, neither team proved to be much of a threat with the lumber, with the Cardinals (.211) hitting 58 points worse than their regular-season average and the Red Sox (.202) struggling to stay above the Mendoza line -- a downward trend no doubt due in part to the excellent pitching staffs each team faced.
But both Boston (.277) and St. Louis (.269) were among the four best-hitting teams in baseball in the regular season, and the Red Sox's .446 regular-season slugging percentage was tops in the league. So there is reason to believe both offenses can get it together in the World Series, and if the series does come down to bats, Boston's power could be the difference.
St. Louis' regular starting lineup combined for just one home run against Los Angeles in the NLCS -- the only other homer was an outlier from light-hitting reserve Shane Robinson -- and managed just 12 extra-base hits in the series. A lot of that could be attributed to Matt Holliday, John Jay and David Freese, who effectively nullified any good Carlos Beltran and Matt Carpenter did at the plate.
On the other side of the field, Boston saw some horrifying numbers from the bulk of its starting lineup against the Tigers, with Stephen Drew, Will Middlebrooks, David Ortiz and Shane Victorino struggling just to break .100 at the plate for the series. But as you may recall, Ortiz and Victorino also came up with the two biggest hits of the series, and that timeliness -- in addition to an expected progression to the mean -- could be the difference for the Sox.
EDGE: RED SOX
BENCH Though the sample size is small, there's a case to be made that Boston's best hitter in the ALCS may have come off the bench.
Xander Bogaerts reached base in six of his nine ALCS at-bats -- his play so effective, it actually earned the barely-21-year-old the start in Games 5 and 6 over the struggling Middlebrooks. And even if Bogaerts returns to the bench for the World Series, the Red Sox have made it clear they won't hesitate to use him when the occasion calls for it.
In addition to Bogaerts, David Ross also made the most of a spot start behind the plate in Game 5, going 2-for-3, including an RBI double off of Anibal Sanchez. And Daniel Nava reached base three times in seven plate appearances during starts in Games 1 and 4, though his three strikeouts leave something to be desired.
The Cardinals, meanwhile, have used their bench in pinch-hitting roles -- a necessity, given the league they play in -- and the results have been mixed.
While Robinson's homer in Game 4 was huge (as was his 2-for-4 showing in a Game 6 start), St. Louis' other 14 pinch hit at-bats this postseason have produced just one hit in Daniel Descalso's pinch-hit single and eventual game-winning run in the 13th inning of Game 1. Kolten Wong and Adron Chambers, however, combined to go 0-for-7 with four strikeouts -- not much better than the pitchers they most often replaced.
It will be interesting to see how the Red Sox adjust to not having the DH in St. Louis (and vice versa for the Cardinals in Boston), but overall, the Boston bench seems more poised to make an impact in the series.
EDGE: RED SOX
MANAGERS 2013 will mark the first World Series appearance for managers Mike Matheny and John Farrell -- though Matheny did play in the 2004 Series against these very Red Sox. So it's difficult to argue in favor of one or the other based on postseason pedigree alone. In the end, the coach with the "edge" in the series will come down to what each individual fan values most in the head honcho in the clubhouse -- experience or relatability.
Farrell is considered the better tactician of the two, and he should be. He has coaching experience at several levels, with stints as a college coach, a director of player development and Major League pitching coach before getting his first managerial job with the Blue Jays in 2010.
Matheny, meanwhile, came in with virtually no experience when he took over for Tony LaRussa in 2012, but he has adjusted well to the departure of Albert Pujols and has guided the team to 185 wins in his first two seasons on the bench. At age 43, Matheny is not far removed from the game and he has the air of a player's manager and seems to have a special rapport with his team.
But given the turnaround Farrell has spearheaded in Boston -- it's easy to forget that this team won just 69 games last season -- it's hard to argue against anything he's doing.
EDGE: RED SOX
PREDICTION Given the fact that I gave the Red Sox the edge in four of the five categories listed above, you'd think it would be easy to crown them champs -- but it's hardly a no-brainer, as far as I'm concerned, because the one category where the Cardinals really stand out is so monumentally important in October.
Right now, St. Louis has the two best pitchers in the series, and in order to win their third World Series in the last decade, Boston will ideally need to beat these guys twice, lest they put too much pressure on the back end of their own rotation to carry the load.
The Red Sox's bats haven't been especially hot thus far this October -- certainly not productive enough to think they should be expected to beat Wacha and/or Wainwright, even at home -- so the question then becomes one of whether Wacha, particularly, will be able to maintain his ridiculous pace on the game's biggest stage.
If the Red Sox can at least knock Wacha down a peg when he makes his first start -- even if they don't win the game -- I think their chances of doing it again later in the series rise exponentially, especially if he's on the mound for a Game 6 back at Fenway. If not, Boston could be in trouble.
Call me crazy, but I think the Cardinals leave St. Louis with a 3-2 series lead, but lose Games 6 and 7 in Boston. Chalk it up to that Fenway mystique and a promising young pitcher who isn't quite ready for this kind of pressure.
PICK: RED SOX IN 7
The original article can be found at FOXSports.com: Quick glance at World Series matchup.