Questions for JTG Daugherty Racing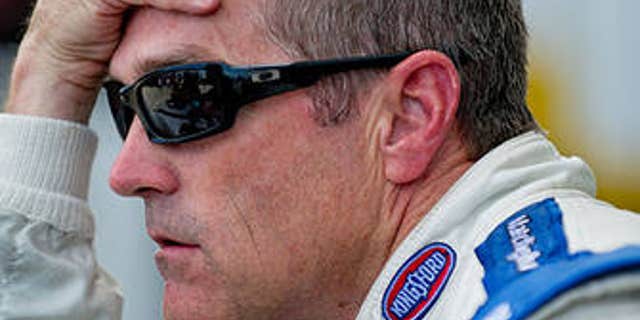 HAMPTON, GA. – JTG Daugherty Racing has a lot of decisions to make in the next few weeks.
First, what to do about Bobby Labonte, the 49-year-old veteran racer who fell off of his bike on Wednesday and broke three ribs.
Although A.J. Allmendinger was officially named the driver of the No. 47 car for 2014, he was only signed up for three more races with the team this year. Sunday's Cup event at Atlanta Motor Speedway along with the Kansas Speedway and the season finale at Homestead were expected to be his only races remaining.
But after Labonte's wipeout, it's uncertain when the 2000 NASCAR champion might return.
"Bobby is pretty banged up right now," said JTGD co-owner Tad Geschickter. "He has another doctor's appointment on Monday, so I guess as a football head coach says, 'It may be a game-time decision.'
"Bobby still has a burning passion to drive the race car and see his contract through the end, but having said that, we obviously don't want to him to risk further injury or push the issue, so more to come. I wish I could give you a straight answer, but I think that's Bobby's decision with his doctors, and we'll just take it a day at a time on that."
Labonte was released from the hospital on Thursday. He has driven for JTGD since the start of the 2011 season. His only top five since joining the team was fourth place in the 2011 Daytona 500. He has 21 career Cup wins.
A less pressing dilemma, but with greater ramifications, is which manufacturer JTGD Racing will align with in 2014.
When the company shared a technical alliance with Michael Waltrip Racing the first two seasons with Marcos Ambrose behind the wheel and Toyota Racing Development engines, the team finished 18th in 2009 and 26th in 2010. Labonte was 29th in the standings the following year and 23rd in 2012. But this year, the JTGD is 30th in the owner standings.
As a single-car operation, JTGD has struggled to be a top-20 competitor. Co-owner Brad Daugherty sai thast, for now, the organization is "working to get the most that we can out of our Toyota relationship" but has not decided whether to stay the course with that brand and the Triad engines or become a technical partner of Richard Childress Racing and Chevrolet.
Furniture Row Racing, another single-car operation that also shares a similar association with RCR, is enjoying its best season since the team began running full time in 2008.
"We'd like nothing more than to have a relationship opportunity with Toyota," Daugherty said. "But as we look at our entire program, we're looking at every aspect of it and trying to see what will benefit us. We're going to be selfish with that as we get into next year to see what gives us the best opportunity to be competitive.
"We haven't decided that 100 percent. Right now we're committed to Toyota to get through this season and give them our best effort. Hopefully, they will as well. We expect them to and they have."
SAY WHAT?
When FOXSports.com asked A.J. Allmendinger whether he still plans on running the 2014 Indianapolis 500, Dinger, who finished seventh at the Greatest Spectacle in Racing in May, said:
"You'd have to ask Roger [Penske] on that. I could drive 1,100 miles on Sunday. I'm good. If the opportunity is there, I'm not going to say no."
Allmendinger's new owner, Tad Geschickter, who has enjoyed a long relationship with Kingsford Charcoal, offered his blessing: "Absolutely. Memorial Day is the biggest charcoal holiday of the year."