Questions at quarterback persist for South Carolina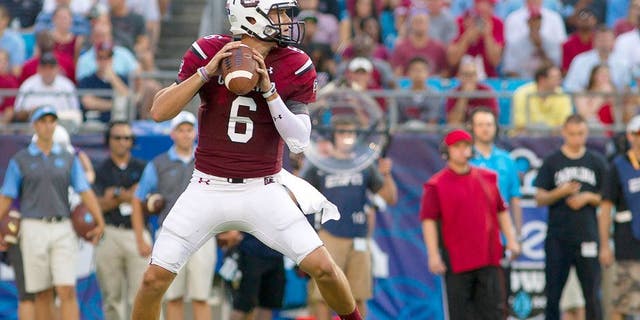 Folks, this isn't a vintage Steve Spurrier team.
At times during the victory over UNC this past Thursday, it would have been difficult to invision South Carolina being coached by one of the most prolific pass-happy head coaches in the history of the sport. The run game was featured prominently, and the Gamecocks struggled throughout to create big plays in the passing game. In fact, the longest pass-play went for only 27 yards.
Starting quarterback Connor Mitch certainly did look inexperienced. It's to be expected, considering it was his first start on the collegiate level. Mitch's indecisiveness with the football caused him to hold onto the ball for far too long. As opposed to standing in the pocket and delivering the football down the field, he'd often look to scramble if his first read was covered up.
For the game, the sophomore signal-caller out of North Carolina went 9-of-22 for 122 yards and a touchdown. Much of his effectiveness stemmed from running the football. Mitch accrued 44 rushing yards on 10 carries.
Backup Perry Orth also saw some time when Mitch went down with a hip pointer. He went 2-of-2 for 24 yards in limited action.
Going forward, it will be fascinating to see if Spurrier opts for a two-headed attack at the quarterback spot. It was quite apparent there needs to be more consistent play from the position if South Carolina is to win the SEC East Division.