Quenneville: Sharp should start skating soon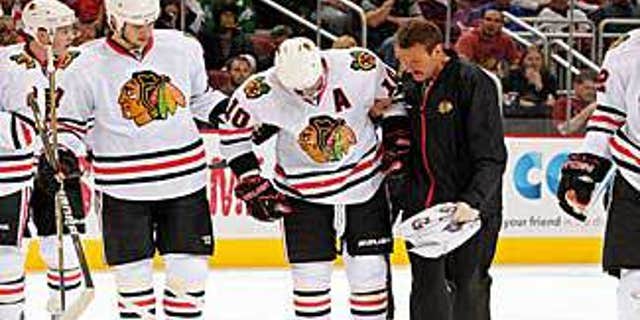 Chicago coach Joel Quenneville offered some good news on injured forward Patrick Sharp on Tuesday, telling reporters in Montreal that the Blackhawks' leading scorer should start skating "in the next day or so." Quenneville said last week that the Blackhawks are holding out hope that Sharp will return for the final weekend of the season.
Sharp will miss his seventh straight game Tuesday when the Blackhawks take on Montreal at Bell Centre. He'll be out Wednesday when they return home to play St. Louis. The Blackhawks close the regular season with a pair of game against the Red Wings, starting in Detroit on Friday and concluding in Chicago on Sunday.
Sharp injured himself in the first period of a 2-1 win at Phoenix on March 20. He collided with Coyotes defenseman Rostislav Klesla in the first period.
He leads the Blackhawks with 34 goals and is third on the team with 68 points.
Chicago is clinging to eighth place in the Western Conference with four games to play, two more than the Calgary Flames, who trail by one point in ninth place. The Blackhawks hold a three-point lead over Dallas, which also has four games to play, including Tuesday night's against Columbus.
Follow Dan Rosen on Twitter at: @drosennhl