Quarterly gains: Rams' Gurley steps up production in second half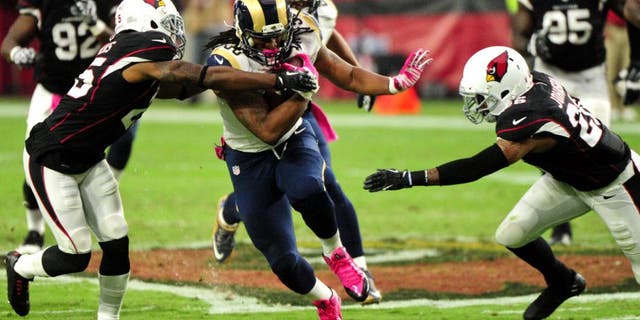 Rookie Todd Gurley ran for 144 of his 146 yards in the second half in his first career start versus Arizona. Matt Kartozian USA TODAY Sports
St. Louis Rams rookie Todd Gurley is given credence to the theory that a running back becomes more productive as he gets deeper into a game.
Gurley has amassed spectacular numbers in his brief NFL career, becoming only the third rookie in history to rush for at least 125 yards in each of his first three starts. And he's saving his best for last.
Aside from his NFL debut that yielded only nine yards on six carries, Gurley has churned out 433 yards in his last three outings - and among the many notable aspects of his impressive start is a marked rise in his yards per carry in each quarter.
Nearly half of Gurley's season total has come in the fourth quarter alone. The No. 10 overall pick in this year's draft has rumbled for 213 yards on 23 carries in the final 15 minutes - an eye-popping 9.3 yards per rush.
"He's a playmaker," Rams defensive tackle Aaron Donald said. "He's been a huge help and a big spurt for the offense. The sky is the limit for that guy if he keeps working."
A slow starter who has only 16 yards on 12 first-quarter rushing attempts, Gurley hikes those numbers to 97 yards on 21 carries in the second quarter (4.6 YPC) before turning up the throttle after halftime.
In the third quarter, Gurley has piled up on 116 yards on 18 rushes, pushing his second-half totals to 329 yards on 41 carries, a staggering 7.8 yards per attempt for a team that features the league's worst passing attack.
MORE NEWS: Want stories delivered to you? Sign up for our NFL newsletters.