Quarterback Jarrett Stidham transferring from Baylor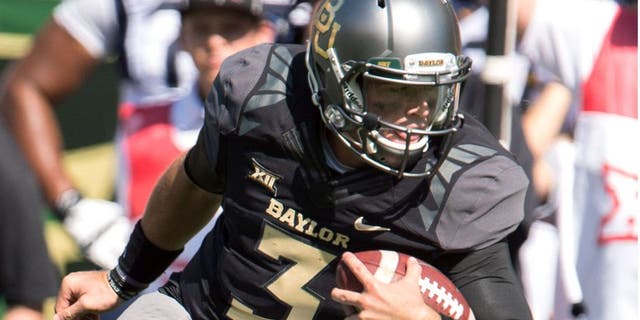 NEWYou can now listen to Fox News articles!
Baylor has lost a bunch of promising recruits in the wake of the sexual assault scandal that cost head coach Art Briles his job, but the Bears suffered their biggest roster hit Thursday, when talented sophomore QB Jarrett Stidham announced he's transferring.
The 6-3, 205-pound Stidham started half of the 2015 season as a true freshman after starter Seth Russell went down with a neck injury. Stidham, a mobile QB, threw 12 TDs and just two INTs and completed 69 percent of his passes. He also ran for two touchdowns. Stidham had initially committed to Texas Tech before switching to Baylor.
Stidham still has a redshirt season that he could use to sit out as a transfer student and then have three remaining seasons to play. Or he could go to junior college this fall and then be able to transfer to any program he wants for 2017.
However, there is a rule in the Big 12 that if a scholarship player goes to a junior college in between going to another Big 12 school the player will still lose a year of eligibility, meaning he would have to sit a year and forfeit a year. So he would sit 2016 and could only play 2017 and 2018. It is plausible he could be granted an appeal especially considering the circumstances at Baylor but sources tell FOX Sports that probably would require a lot of cooperation on Baylor's part.