QB's brother curses at Mike Gundy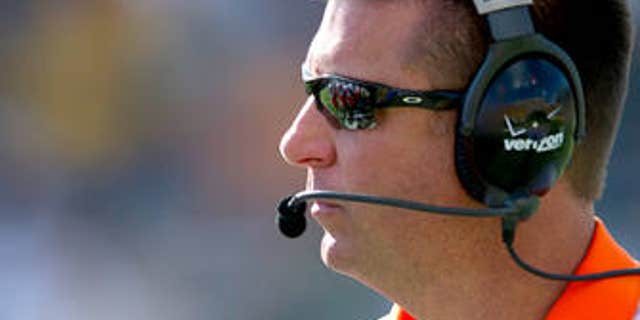 Clint Chelf is a senior Oklahoma State quarterback, but he is not the No. 1 Oklahoma State quarterback. His brother, Colton, has beef with that.
"2 series lol @coachgundy your a chicken sh*t," he tweeted Saturday.
Now, this isn't the first time Mike Gundy has been in the middle of a quarterback situation that came to involve some outside influences. Earlier in his career, he stuck up for backup quarterback Bobby Reid when he thought the QB had been unfairly criticized in the local newspaper. Back when Gundy was 40.
Colton has since deleted the tweet directed at Gundy, but otherwise he's not standing down.
I'm just sticking up for my brother, he deserves more than two series c'mon now.
-- Colton Chelf (@coltonchelf) August 31, 2013 Clint Chelf came off the bench in Oklahoma State's 21-3 win over Mississippi State on Saturday in Houston, going 3 for 6 for 11 yards. Starter J.W. Walsh was 18 for 27 for 135 yards.