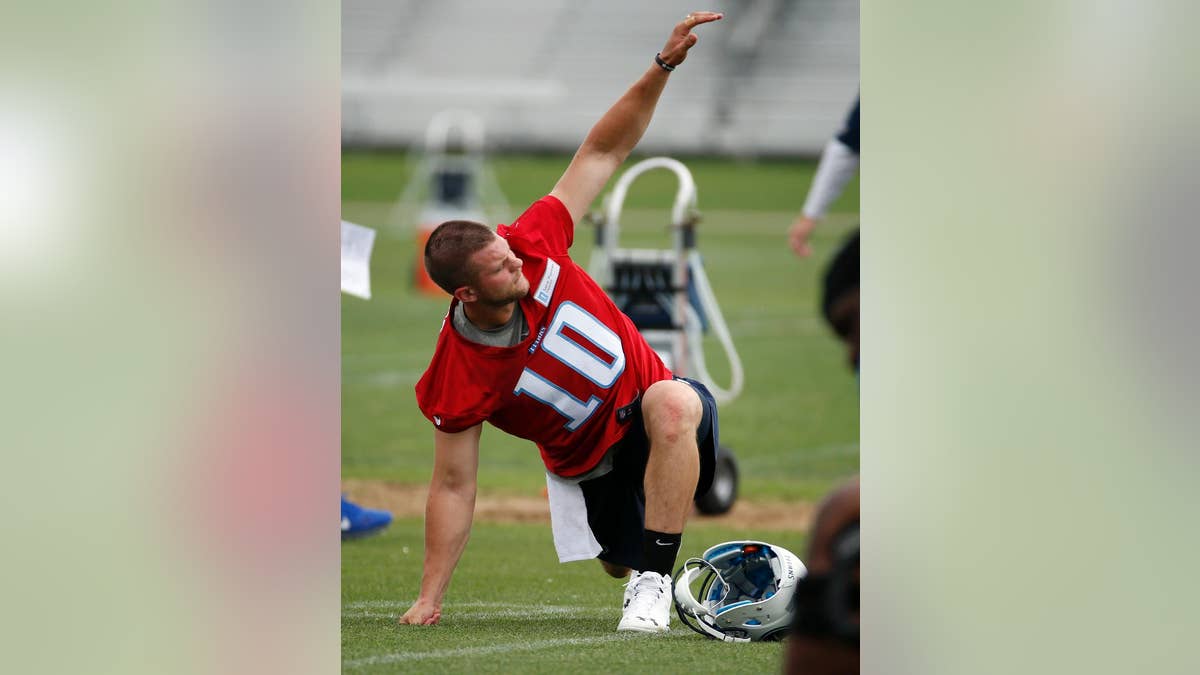 NASHVILLE, Tenn. – Jake Locker is back on the field with the Tennessee Titans — a couple of weeks ahead of the schedule doctors estimated for his return from an injured right foot.
The quarterback said Tuesday that he pushed hard to give himself every chance to learn a new offense before the season starts.
"With it being a new system, I want to run plays behind center as often and as much as I can before we take our first snap of the season," Locker said. "And I want the guy son the team to know it means something to me. I'm not just taking a break because I can. I'm going to do everything I can to be on the field, and hopefully it helps create a culture that we're all going to work that way."
Locker took part in his first team drills Tuesday since suffering a Lisfranc injury to his right foot Nov. 10, which cost him the final seven games of the season. He has missed 14 of his first 32 starts and now is busy learning a third offense in four seasons with a coaching change. Locker had to watch the voluntary three-day minicamp in April, and his personal target had been being on the field for this final stage of the offseason.
He said he felt really good moving around. Locker expects to deal with some stiffness and soreness now that he's finally back on the field for the organized team activities. He is experimenting with different shoes right now to find the right fit.
"Barring any setbacks, I hope to keep moving forward," Locker said.
This is a crucial season for Locker. The 10th overall draft pick in 2010 is heading into the final season of his rookie contract after the Titans decided not to pick up his fifth-year option. New coach Ken Whisenhunt and general manager Ruston Webster both have endorsed Locker as their starter repeatedly, but the pressure now is on the quarterback to stay on the field and win.
Locker was good when he was on the field in 2013, completing a career-best 60.7 percent of his passes. He also had twice as many touchdowns (eight) as interceptions (four). But he was only started seven games, winning four.
The Titans have tried to protect themselves by bringing in veteran Charlie Whitehurst, who knows Whisenhunt's offense very well, to back up Locker. They also drafted Zach Mettenberger of LSU in the sixth round. Whisenhunt said it's a credit to Locker for working hard and now they must see him continue that progress off the first day.
"A good assessment the first day is how they handle the terminology going into the huddle, and he did a nice job with that," Whisenhunt said. "He's been working at it a couple of weeks now, but just the way he's been studying, the way he's working out I really like that. There's no substitute for getting the work on the field. But even seeing some of the drills today you're seeing him make progress (with) his footwork, some of his progressions so I'm excited about that."
Tight end Delanie Walker said Locker was putting the ball on target.
"It's always good to see your starting quarterback out there running the offense for us, especially in team and seven-on-seven," Walker said. "But it didn't surprise me. That's Jake. He's a fighter. He's going to be out there. He's going compete. He's a leader, and that shows leadership. It's good to have Jake out there throwing the ball to us just to get the timing down."
___
Online:
AP NFL website: www.pro32.ap.org and www.twitter.com/AP_NFL
___
Follow Teresa M. Walker at www.twitter.com/teresamwalker