Putin promises gays won't face discrimination during Sochi Olympics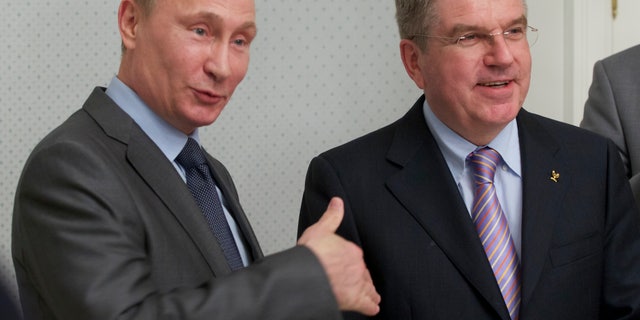 SOCHI, Russia – President Vladimir Putin promised Monday that gay athletes and guests at the Winter Olympics in Sochi will feel at ease, seeking to assuage fears fueled by a recent Russian law banning gay "propaganda."
Speaking at a meeting with heads of Russian winter sports federations, which was also attended by visiting IOC President Thomas Bach, Putin said Sochi would be fully tolerant.
"On my own and on your behalf, I have assured Mr. President (Bach) that we will do our best, and our athletes and fans will do their best too, so that both participants and guests feel themselves comfortable at Sochi Olympics regardless of their ethnicity, race or sexual orientation," Putin said. "I would like to underline that."
Preparations for the Sochi Olympics have been overshadowed by international criticism of a recently enacted Russian law outlawing "propaganda of nontraditional sexual relations among minors." Many worry that law may apply to gay athletes and visitors to the games.
The IOC has said it received assurances from the Russian government that it will respect the Olympic Charter, which prohibits discrimination of any kind at the games. Gay rights groups have accused the IOC of not doing enough to pressure Russia on the issue.
Human Rights Watch on Monday urged the IOC to call on Russia to repeal the law.
"The Sochi Olympics risk being remembered as the anti-gay games, unless the IOC is willing to stand up and defend the principles of its own Olympic Charter," Jane Buchanan, associate director for Europe and Central Asia at Human Rights Watch, said in a statement.
The advocacy group also wants Bach to pressure Russia to end alleged abuses linked to Russia's preparations for the games, including illegal detentions and deportations of migrant workers involved in Olympic construction, harassment of journalists critical of the government's policies in Sochi and evictions of some Sochi homeowners and their families without proper compensation.
Bach, who also had a one-on-one meeting with Putin on Monday, voiced confidence that Russia will deliver a successful games.
Making his first trip to Sochi since being elected head of the IOC last month, Bach told Putin he was deeply impressed with the amount of work Russia has done to prepare for the Feb. 7-23 games. Bach said he expects the games will be held on a "magnificent level."
Bach asked if there would be enough snow for the games. The city of Sochi is a balmy, palm-lined Black Sea resort, while the snow events will be held in the nearby Krasnaya Polyana mountains.
Russian Deputy Prime Minister Dmitry Kozak, who is in charge of preparations for the Olympics, said organizers have stored 24.7 million cubic feet of snow as a contingency in case of lack of snowfall.
"And more will come we hope," Putin said.
Putin and Bach opened a new railway station in Sochi that will serve as an important transit hub during the Olympics, linking the coastal zone with the mountain venues.
Russia is spending more than $50 billion on the Olympics, Putin's pet project. He said Monday the Olympic construction is largely complete, with only some details remaining to be completed.