Pure dominance: Johnson's wins showcase Hendrick strength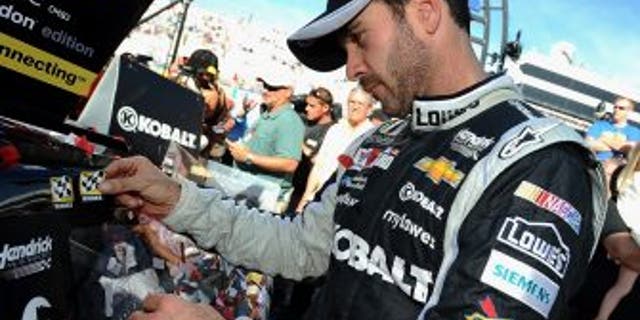 Sunday at Dover, Jimmie Johnson once again dominated the race like he seemingly does every time we go there. I know the talk going into Charlotte was when was the No. 48 going to find Victory Lane again. That talk even got louder when Jimmie ran less than spectacular during the Sprint All-Star Race. However, he was so strong two weeks ago winning the Coca-Cola 600, and Sunday he made it two in a row.
Sunday marked Jimmie's ninth Dover win in his 25 starts there. Stop for a second and just think about the different rules packages, or even cars, that he's won in at Dover. This is a man who knows what he's looking for and a feel that he's looking for. Once he gets it, he's virtually unstoppable. It also says a lot about crew chief Chad Knaus and the No. 48 team as a whole being able to repeatedly give Jimmie what he needs.
What really has to have the other teams even more worried than the two wins in a row now by Jimmie, is that Sunday's win was a new version of a car that Hendrick Motorsports has built. Jimmie happened to mention that in his post-race comments.
I think we also have to say that collectively Hendrick Motorsports as a whole has stepped their game up. At one point Sunday you had three of the four Hendrick drivers in the top five, and all four of them were in the top seven or eight. Now that's not how it all played out by the end of the race, but my point is it showed you the strength of their organization and how it possibly could have played out.
You also have to look at the strength of the Hendrick engine program as they have now won the last four races we've run. Jeff Gordon won Kansas. Jamie McMurray won the All-Star Race with a Hendrick engine under the hood. Then, naturally, Jimmie has won the last two races. So you can clearly say the engine program is working well not only for their four teams but also the teams on their engine lease program.
If that wasn't bad enough news for the competition, don't forget that Jimmie has won at Pocono three times. In fact, he won this race a year ago. So I wouldn't be the least bit surprised if everyone next week isn't talking about Jimmie having won three in a row.