Pulling off throwback weekend no small task for Darlington Raceway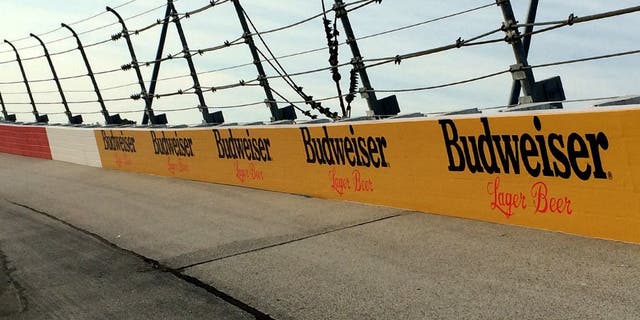 This coming weekend marks one of the most eagerly anticipated events of the entire NASCAR season, with the return of the Bojangles' Southern 500 at Darlington Raceway to its historically correct Labor Day weekend date.
And the track, along with virtually the entire NASCAR community, has big plans to make the weekend truly something memorable: At least 32 NASCAR Sprint Cup Series cars will be running throwback paint schemes, most from the 1970s and 80s, honoring some of the sport's all-time greats.
Drivers will likewise don old-school firesuits, the Goodyear racing radial tires will have classic-style white logos and the merchandise area at the track will be filled with throwback T-shirts, diecasts and other goodies for sale.
Around the track, you'll see old-school signage, like the gold Budweiser advertising that harkens back to the mid-1930s. A total of 14 members of the NASCAR Hall of Fame will be at Darlington for the weekend, and they'll ride around the track with current drivers during the introductions before Sunday night's race. Even the old Darlington Southern 500 parade is coming back.
The retro Darlington weekend has created a huge buzz on social media and in the NASCAR community.
"The teams that show up @TooToughToTame with no throwback scheme will be like those people who show up at costume party's not dressed up," tweeted Dale Earnhardt Jr., NASCAR's most popular driver and someone with a keen sense of history.
Given all that, hopes are high for a truly spectacular event at Darlington, which when it opened in 1950 was NASCAR's first superspeedway. For years, the Southern 500 was the biggest race of the year, and now it's getting a huge shot in the arm.
But it didn't just happen overnight. Not by a long shot.
The Darlington throwback weekend was 18 months in the making and required the buy-in of NASCAR, teams, sponsors, state and local government and a host of others.
And in exclusive interviews with FOXSports.com, some of the principals behind the project told us what it took to make it happen.
Two years ago, longtime motorsports industry veteran Chip Wile was appointed president of Darlington Raceway, which is owned by International Speedway Corp. ISC's senior vice president and chief marketing officer is Daryl Wolfe, a 20-year company veteran. Wolfe told Wile he wanted to do a throwback weekend, and he charged Wile and his team with making it happen.
Wile enlisted the help of former Anheuser-Busch marketing executive Tony Sizemore, who was hired to be Darlington's senior director of consumer marketing. Together, Wile and Sizemore began an 18-month process of getting everyone they could on board with this event.
One of the first steps was putting together a focus group of industry hitters -- big names like NASCAR executive vice president and chief racing development officer Steve O'Donnell, NASCAR Hall of Fame executive director Winston Kelley and NASCAR senior vice president Jill Gregory, who oversees the sanctioning body's marketing efforts.
"We really started vetting through the idea," Wile told FOXSports.com in an exclusive interview. "Will the league sustain this as a weekend that everybody will embrace? Once we all agreed it was a good idea, really, Darlington Raceway took it and ran with it."
Then the selling began.
"We met with every team individually," said Wile. "Showed them a Powerpoint presentation of our plans. We had a really nice, well-laid-out plan and tried to make sure they understood what we were doing and then tried to figure out how they could work with us."
One of the first teams to buy in a big way was Stewart-Haas Racing, a team that prides itself on being old-school racers.
"We jumped all over it, solely because it plays to the brand of our team," said Mike Verlander, SHR's executive vice president of marketing. "If you start with our logo, a lot of what we do and what we've done is very different from other teams. Their logos are designed solely for embroidery on a shirt, where our logo really mimics that of a '57 Chevrolet and the old, nostalgic roots of racing. It made all the sense in the world to us as a team when Chip brought the idea to us."
Which, of course, was exactly what Wile and Sizemore were looking for.
"We said, 'Well, let us spearhead that,' " said Verlander. "No. 1, because no other team in the sport that has a better brand to marry with the retro throwback theme. No. 2, because our drivers line up very well with the old roots of racing. It's no secret that Tony (Stewart) is a big fan of old racing relics. All of our drivers are blue jeans and tennis-shoe type of folks vs. condos in Manhattan and South Beach."
Not only did teams jump on board, but so did the sanctioning body, a crucial ally. "NASCAR has been fantastic," said Wile. "Every one of their departments has been fantastic."
Then it was getting the sponsors to agree as well, which worked out for many of the teams, especially those with old-school companies bankrolling them.
STP, for example, agreed to sponsor Aric Almirola's No. 43 Richard Petty Motorsports Ford in the iconic Petty blue/STP Day-Glo red scheme Petty himself immortalized in the 1970s and '80s.
"They jumped right on it, naturally, because from '72 until now, we always had STP," Petty said in an exclusive interview with FOXSports.com. "All the years I drove from then, it was STP cars, red and blue. It was a good lick for them to bring back some of their history to racing to."
Verlander said Anheuser-Busch went all in right away, too, with a vintage gold Budweiser paint scheme for Kevin Harvick's SHR Chevrolet. The gold color dates back to 1936, and the very first Budweiser cans ever produced.
"When you look at Anheuser-Busch, there's a great story to tell about the first race ever run at Darlington," said Verlander. "If you had a Budweiser in your hand, it was in that gold can. So let's run a gold paint scheme, with Kevin as the defending winner of the race and the defending champion and a brand that is nostalgic and as deeply rooted in the sport as anyone."
Valvoline has returned, too, and will sponsor Dale Earnhardt Jr. this weekend with an old Cale Yarborough retro scheme.
"The companies have bought in," said Wile. "You look at a company like Valvoline. They don't normally put their name on the side of a race car, but they liked the program. Those are the kind of wins we want to go back to the teams with for year two."
So far, the project has been a home run, but the real measure of success will be this weekend.
"I think it's exceeded all our expectations," said Darlington's Sizemore. "We've tried to get a lot of touch points that would have fan engagement and would connect everything. And that's what we've had from the beginning: Let's celebrate tradition, but also be forward thinking, and that's what we talked to all the teams about."
And for old-school folks, running Darlington on Labor Day is what NASCAR founder Bill France Sr. intended from the beginning.
"We used to always run Darlington on Labor Day. All of a sudden, it went away and it kind of lost its luster," said Petty, who ran his first Southern 500 at Darlington on Sept. 7, 1959. "By being back on Labor Day and everybody coming back with cars with '70s and '80s paint schemes, I think it'll generate a lot of interest. I know it has with all our crew. To everybody in the South, Labor Day was always Darlington. This will be a big, big plus to bringing it back."