Pujols' exit had no effect on Cardinals, who keep winning without 3-time MVP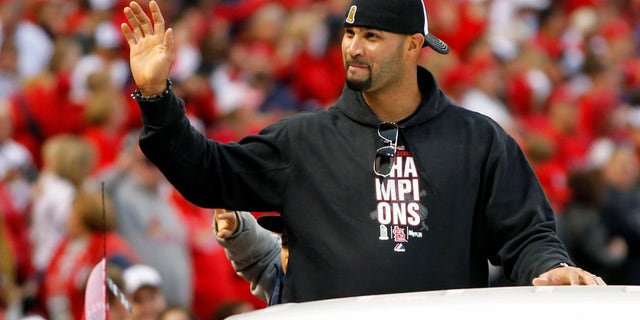 NEWYou can now listen to Fox News articles!
ST. LOUIS – Tony La Russa was always protective of his players, so it comes as no surprise that the former St. Louis Cardinals manager swims against the current when it comes to Albert Pujols.
It's been two years since the three-time NL MVP played his last game in St. Louis, sprayed some champagne, boarded a parade vehicle, waved to adoring fans lining the streets and then left town.
The Cardinals have done plenty of celebrating without Pujols. It's probably the biggest reason his potent bat and larger-than-life presence have been largely forgotten in St. Louis.
But La Russa, who retired after the 2011 championship season and lives in California, said Pujols' accomplishments always come up whenever he's in town.
"He's talked about in heroic terms, he's honored," La Russa said in an interview with The Associated Press. "They don't have Albert, they don't have Big Mac, either, but that doesn't mean they don't recognize what they've done and meant to the city."
Pujols put up 11 Hall of Fame-worthy seasons to start his career, becoming part of a veteran core that included Jim Edmonds, Scott Rolen and Chris Carpenter and made St. Louis a perennial contender. He quickly blossomed into one of the majors' most dangerous hitters, clearing a .300 batting average, 30 homers and 100 RBIs in each of the first 10 seasons, and just missing that standard in his final season.
La Russa forecasts a big comeback next season for Pujols, whose two post-St. Louis seasons with the Angels have been the low points of his career. He was shut down this season in mid-August with a partially torn plantar fascia on the bottom of his left foot, an injury that had dogged him with the Cardinals.
"He's still as perfect as he's ever been," La Russa said.
There are two Stan Musial statues outside Busch Stadium in tribute to the greatest player in franchise history and a Hall of Famer who was one of the best of all time.
Pujols used to be the modern-day Stan Musial.
Now, he's old news.
Catcher Yadier Molina's mentor was and remains Pujols, and he said Friday his close friend was "enjoying the vacation." He's hopeful Pujols will be back to full strength for next season.
But then he's ready move on to present tense.
"Why are you talking to me about that?" Molina said. "He's doing good, he's happy for us, he's a great teammate, he's a great person."
Pujols personified the Cardinals from a national standpoint and his absence was duly noted last fall when they went to the NL championship series. This year, his name has rarely come up.
On the field or in the sports bars.
The Cardinals are in the Series again because they have a well-rounded team, one perhaps they couldn't have constructed if Pujols and his $20 million-plus salary was still around.
"The first few months, they didn't want to lose him," La Russa said. "Now they understand, everyone understands. It's just the business and the Cardinals have proven to be very sharp."
The 33-year-old Pujols is due $212 million over the next eight years from the Angels, and the Cardinals have payroll flexibility. Carlos Beltran is around because Pujols is gone, and he has superior numbers the last two seasons.
Molina, Adam Wainwright and Allen Craig have multiyear extensions, decisions that were easier to make.
The Albert Pujols Foundation headquarters is still in St. Louis. So is his charity golf tournament, now helmed by former teammate Matt Holliday.
Pujols is a respected clubhouse presence in Anaheim, but his value on the field has plummeted. The Angels have next to nothing to show from the additions of Pujols and Josh Hamilton and are coming off their worst season in a decade.
The Cardinals led the National League with 97 wins and Craig, the new first baseman, had Pujols-like production in the clutch, leading the majors with a .454 average with runners in scoring position.
"From an organization standpoint we're in a good spot," general manager John Mozeliak said. "I think a lot of people are asking the what-ifs and there are no what-ifs for us at this point.
"It didn't work out and it was just deploying resources and trying to put a good team out there."
From thousands of miles away, Pujols helped. The compensatory first-round pick the Cardinals got from the Angels last year is rookie sensation Michael Wacha, who is 4-0 with a microscopic 1.00 ERA in the postseason after beating the Red Sox to even the Series at a game apiece.
"We've been fortunate," Mozeliak said. "A lot of young players have come up and produced and we're grateful for that."