Puig provides spark early in NLDS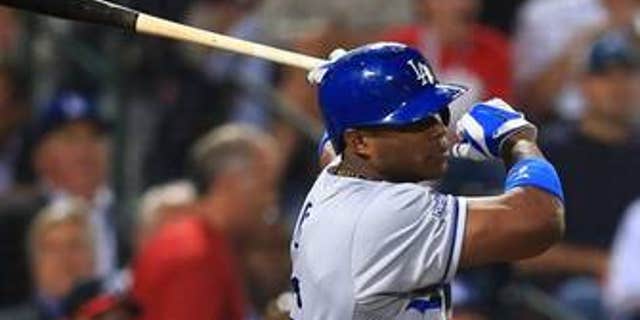 ATLANTA – On Aug. 18, I wrote the following:
If I were a Dodgers fan, I'd be nervous about [Yasiel] Puig in October. He's as likely to cost the Dodgers a playoff game with a needless mistake as he is to win one on a walk-off home run.
The up-to-date postseason scoreboard: Puig 1, Morosi 0.
Puig didn't cost the Dodgers a playoff game Thursday. In fact, he did quite the opposite. Aside from Clayton Kershaw -- whose 12 strikeouts set a Dodgers postseason record for pitchers not named Koufax -- Puig delivered the most impactful performance in a 6-1 win over Atlanta in Game 1 of the National League Division Series.
Don't let the convincing margin of victory fool you. The game was scoreless and there for the taking when Puig stepped to the plate -- amid resounding boos -- in the second inning for the first postseason at-bat of his major-league career. Four pitches later, he was on first base after smacking a single to center.
Puig's mere presence at first base appeared to disrupt the rhythm of Braves starter Kris Medlen. He threw over to first ... and did it again ... and again ... and once more. Puig made it back safely every time. He also maintained a healthy lead. Then came the game's defining play: Veteran Juan Uribe slapped a single to center field that in most instances would have put runners at first and second.
Puig is not a "most instances" kind of guy.
He hit second base and kept running, with breathtaking ferocity. Braves center fielder Jason Heyward, perhaps caught off guard, didn't even throw to third. Puig's aggressiveness paid immediate dividends, as the next hitter, Skip Schumaker, lofted a fly ball to center. Puig tagged up. Heyward, knowing he had no margin for error with Puig at third, hurried his throw home. It was off line. The Dodgers had the lead - and never came close to relinquishing it.
Later, Puig explained through an interpreter that he ran to third because he saw Heyward had to move to his right to field Uribe's single. He figured Heyward didn't want to risk a poor throw, which could have allowed Uribe to reach scoring position. Puig made a quick calculation and thought he could make it. So, he went. And he was right.
That's instinctiveness. Maybe experience, now that the 22-year-old has played more than 100 games in the major leagues. Perhaps both. Either way, Puig proved in the biggest game of his brief MLB career that he's not a baserunning blunder waiting to happen. As for the criticism he's received, Puig said that he's always giving his best effort and trying to make the smartest decisions he can. "If they want to keep criticizing," he said, "they can go ahead and keep criticizing."
I'm not willing to say Puig suddenly has acquired the savvy of a 10-year veteran. He is, however, showing that he has plenty of aptitude to go along with the abundance of raw tools that made the industry swoon earlier this year. In the half-inning immediately after he gave the Dodgers an early lead, Puig made an alert throw to first base that doubled off Evan Gattis. Later, Puig winced in pain but otherwise reacted coolly when Medlen hit him on the back with the right-hander's final pitch of the night.
No brawl. No histrionics. "Part of the game," Puig said afterward. "I knew the pitcher was just trying to do his job, throwing inside. I turned away quickly like that, to try get out of the way. But it wasn't anything I expected the pitcher was doing."
A blur on the bases, more measured in other aspects of his profession. Either he's a wiser rookie than when he arrived in June, or some of us were wrong about him all along.