Protesters kneel during National Anthem outside Panthers-Vikings game amid increased police presence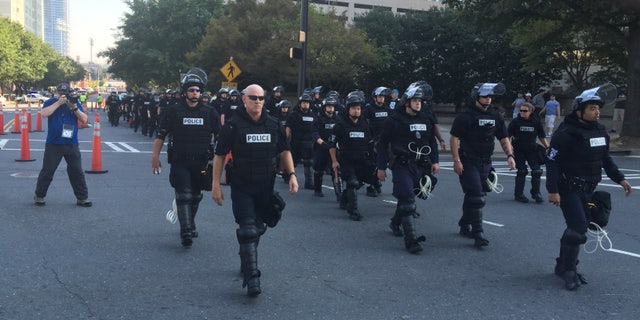 NEWYou can now listen to Fox News articles!
Charlotte officials added extra security around Bank of America Stadium for Sunday's NFL game between the Carolina Panthers and Minnesota Vikings amid ongoing protests over the fatal shooting of a black man by city police officers.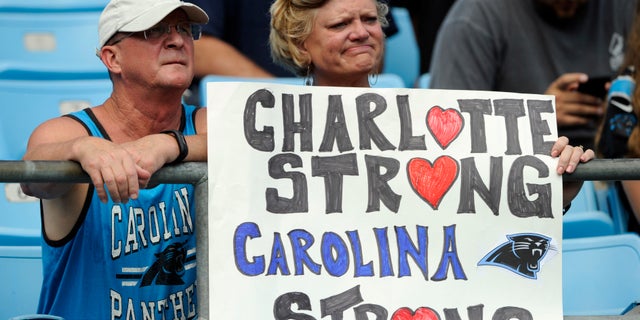 Interim City Manager Ron Kimble declared Sunday's game to be an "extraordinary event," which allows the city to "modify its permitting process for activities such as parades and specifies particular items that are prohibited from being brought into certain boundaries of the event."
Protests have taken place in downtown Charlotte every evening since Tuesday, when 43-year-old Keith Lamont Scott was shot and killed by a Charlotte-Mecklenburg police officer. After violence led to the death of one demonstrator Wednesday, North Carolina Gov. Pat McCrory declared a state of emergency and protests have been largely peaceful since.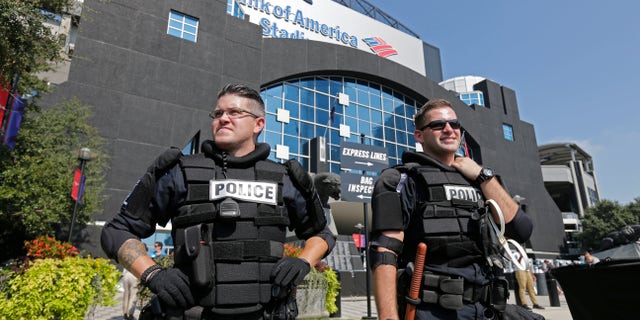 About 100 protesters kneeled outside the stadium in Charlotte as the National Anthem was played. The protesters chanted along to the beat of a brass band, and then were drowned out by noise from inside the stadium. Fans gathered along the ramps inside the stadium and watched the scene below before the Vikings and Panthers game.
Officers wearing black riot gear ringed the stadium, and police on bicycles lined up wheel-to-wheel to surround the protesters.
Inside the stadium, Carolina safety Marcus Ball raised his fist during the Anthem.
Fox News' Donald Fair and The Associated Press contributed to this report.